Courts may send cases back to prosecutors for filing more serious charges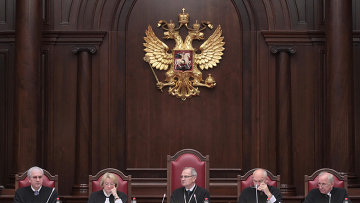 14:14 02/07/2013
ST. PETERSBURG, July 2 (RAPSI) - The Constitutional Court ruled on Tuesday that courts may send criminal cases back to prosecutors for bringing more serious charges, the court's press office reported.
The reason behind the decision was a complaint filed by Uzbek national Bakhodir Gadayev.
Gadayev, an injured party in a criminal case, had asked the court to return the case to prosecutors for filing more serious charges against the defendant. However, the court denied his request, arguing that such a request can only be based on major violations of the Criminal Procedure Code and cannot be connected with the case itself, the qualifications of the professionals involved or evidence of guilt.
The verdict passed in Gadayev's case was later upheld by a higher court.
"Courts will now be able to adopt rulings that will ensure legal, substantiated and fair verdicts," Constitutional Court Judge Nikolai Melnikov told journalists.
He said that fair rulings were being prevented by the clauses which the Constitutional Court has declared unconstitutional. The obstacle has been removed for cases in which more serious charges can be brought against defendants, if such a possibility is indicated in the indictment. The courts will be able to return such cases to prosecutors, Melnikov said.
The Constitutional Court also ruled that parliament is to develop legal instruments for dealing with such mistakes, and that the courts may return cases to prosecutors for formulating more serious charges even before the legislation is amended.