Russian IP Organization's claim against McDonald's set for July 16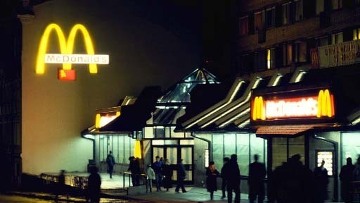 17:08 06/06/2013
MOSCOW, June 6 (RAPSI) - The Moscow Commercial Court has postponed the 790,000 ruble ($25,420) lawsuit the Russian Organization for Intellectual Property (VOIS) filed against Moscow-McDonald's until July 16, RAPSI reports from the courtroom on Thursday.
On Thursday June 6, the court brought a third party into the case at the defendant's request - Media and Advertisement Stream Technology, the company which provides McDonald's with music services.
RAPSI has not been able to obtain comments from either of the parties to the lawsuit at this stage.
The music played at public catering establishments is a major intellectual property issue, Vadim Vechkasov, the legal adviser to the VOIS general director, told RAPSI in March.
He said restaurants commit the most flagrant intellectual rights violations with regard to music, publicly playing songs without contracts. According to him, only 40% of cafes and restaurants in Moscow respect intellectual property rights, while 60% "use music without paying for it."
VOIS was established upon the initiative of Russian musicians and recording companies and was officially authorized in 2009 to collect royalties from broadcasters, entertainment centers, restaurants and stores for playing music.