Azerbaijan court gives prison sentences to members of pro-hijab demonstration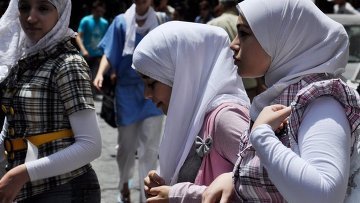 15:18 03/06/2013
BAKU, June 3 (RAPSI, Geray Dadashev) - A Baku district court on Monday finished hearing the case of an unauthorized demonstration held near the Education Ministry in October 2012 to demand that girls should be allowed to wear hijabs to school, a court official told RIA Novosti.
Six more protesters were sentenced to prison terms.
One detainee was sentenced to 6.5 years in prison, while another received six years in prison, three received two years in prison and one received 21 months in prison.
About 200 radical Muslims gathered near the Education Ministry in Baku in October 2012. The police urged them to disperse, but they refused. As a result, traffic was disrupted for 40 minutes and several dozen cars were damaged. The protesters also resisted police, injuring 20 police officers. Ultimately, the police detained 65 protesters, 32 of whom were arrested upon the decision of the court.
In April 2013, eight of these individuals were sentenced to prison terms ranging from five to six years. Another 10 people were sentenced in May, including one to two years in prison, four to 21 months in prison and five to 18 months in prison. They were all sentenced for "organizing or participating in actions that disrupted public order."
Hijabs were prohibited in schools in Azerbaijan in 2010.