Opposition whistleblower Alexei Navalny on trial. Day 6 – live coverage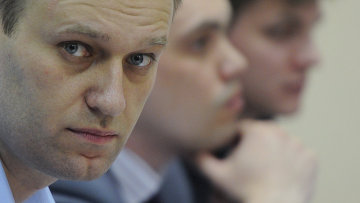 19:10 15/05/2013
MOSCOW, May 15 (RAPSI) – Kirov district court is again being rocked by the embezzlement proceedings pending against Russian opposition activist and anti-corruption blogger Alexei Navalny Thursday, and RAPSI is on-hand to provide of-the-moment coverage of the latest developments in the high-profile trial.
Broadcast
16:05 Meanwhile, we will continue on Monday the 20th. We look forward to seeing you then!
15:59 The hearing has been adjourned. It was scheduled to restart next week, but Navalny has to attend an Aeroflot Board of Directors meeting, so will be unable to attend. The judge will issue a summons excusing his absence on the 21st.
15:50 The key issue is that Aramaztsev was questioned alongside Navalny and Ofitserov. In accordance with a Supreme Court deliberation, the testimony may not be able to be read because of this.
15:45 Konstantin Aramaztsev, who ordered the 2009 audit in the first place, is supposed to attend, but seems to be missing. The parties are discussing their options in light of this. The judge was reading documents regarding the fact that he was missing.
15:40 All is calm and quiet in the courtroom as we wait for the break to finish up. The defense team is studying a table-full of documents, and a witness by the name of Arzamatsev is being sought.
15:25 The judge has called a five-minute break, during which the witness situation will be evaluated. We'll see how many we have left.
15:21 In answer to a question, he confirms that VLK should have compensated the company for transportation costs.
15:21 Krylatov identifies the documents as additional agreements pertaining to transport costs.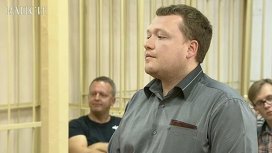 © RAPSI
Next on the stand: Vladimir Krylatov
15:19 The prosecutors are presenting some sort of invoice to the witness.
15:17 Apparently aspen didn't do too well in Kirov that year. Lots of spoiled aspen....
15:12 Ofitserov asks what his company was selling in early 2009. The usual for that time of year, Krylatov responds.
15:10 When asked how his company got along working with VLK, Krylatov cannot evaluate. He simply acted on the orders of management.
15:08 Krylatov has heard of VLK.
15:07 Interesting fact: the judge asks each witness his or her nationality upon taking the stand in order to determine whether he or she will need a translator.
15:04 Well that's all for Fursov. Next on the stand: Vladimir Krylatov, who was the director of timber company Kirov in 2009.
Next witness
15:02 Navalny asks whether anyone ever forced anyone at KMDK to enter into a contract with VLK. Nope, not according to the witness.

15:01 As with so many others, the prosecutors are looking to read out his testimony because he is a bit foggy on his memory of VLK.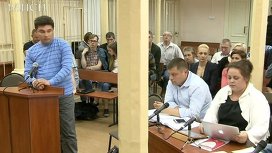 © RAPSI
Mikhail Fursov, next witness
14:57 And our next witness is Mikhail Fursov, who worked at the helm of the timber department of Kirovsky KMDK in 2009. This is a woodworking factory in Kirov.
14:55 The judge announced that he's calling a new witness. The defense protests, pointing out that this morning it was announced that four witnesses were supposed to show up. Nope, no longer the case. New witnesses have arrived. And hey, maybe even more will come out of the woodwork, Judge Blinov lets it be known.
New witness
14:52 Seeking more clarity on the missing-forest situation, Navalny asks whether bandits snuck in at night and stole the timber. Barantsev reckons the theft occurred on weekend.
14:50 Navalny asks about the embezzlement issue he discussed with the prosecutors. The witness confirms that the embezzled timber has not been found. Navalny asks afterwards if he or Ofitserov were seen at the place of crime. No, Barantsev answers stoically.
14:45 Davydova comments with a smile.
14:43 The defense is not opposed, but it wants to start by first questioning the witness. The judge, as usual, lets the testimony be read out and the prosecutors to ask their questions.
14:39 The prosecutor is asking about the disclosure of evidence in light of any contractual requirements with VLK.
14:37 The witness has already repeated five times that he's only familiar with the technical issues within the company.
14:34 Smertin's out and a new witness is in. Sergey Barantsev was the chief engineer for timber company Sorvizhsky in 2009. He is not familiar with VLK on any meaningful legel, having merely signed papers occasionally that they seem to have seen.
New witness
14:27 Davydova asks for clarification on the order of timber specifications.
14:25 In response to Navalny's present line of questioning, Smertin mentions that he spoke with a Kirovles accountant about three weeks ago in order to inquire into the ongoing existence of debt.
14:20 Smertin says that no one was forced to cooperate with VLK.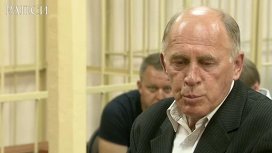 © RAPSI
Yuriy Smertin has taken the stand
14:19 Navalny asks whether in Smertin's presence he (Navalny) had ever spoken with anyone about VLK, to which Smertin says no.
14:17 When asked whether he received guidance on the price reductions, Smertin responds that no - his money was always accepted.
14:14 The witness recounts various visits to check equipment and the quality of wood.
14:10 Smertin's company conducted a great deal of business due to its geographic location at the crossroads of a couple of highways.
14:09 Smertin has seen Navalny before in a meeting with Scherchkov.
14:07 Ovchinnikov is free and Yuriy Smertin has taken the stand. Smertin worked for timber company Sovietsky in 2009.
New witness
13:57 Ovchinnikov tells the court that's rather common business. Navalny asks him why Kirovles didn't sell timber directly, without any intermediaries. Ovchinnikov suggests asking Kirovles itself.
©
Roman Ovchinnikov, another witness
13:53 Vlada is another intermediary in selling timber products. When asked how much the company gets from its busuness, Ovchinnikov got confused.
13:50 He used to buy Kirovles timber products via VLK. He doesn't remember much, saying it was all long ago.
13:44 Ovchinnikov has seen the accused on TV, doesn't know them personally.
13:41 Kuzyakin has been set free. Now onto another witness, Roman Ovchinnikov, director of Vlada company which worked with VLK in 2009.
New witness
13:35 Some minor debts were written off - witness. He can't remember which sum was written off, some thousands of rubles.
13:32 Navalny asks Kuzyakin about Kirovles bankruptcy. The witness doesn't know the reason for Kirovles going bankrupt. Probably debts, he says, adding that salary was payed more or less on time.
13:28 Navalny wants to know how the price for timber was set and why Kuzyakin's price was higher. The business's not far from the city of Kirov, and costs for shipment are calculated - the witness.
13:25 VLK came up with the lowest price in comparison to others, Kuzyakin says.
13:18 Navalny asks Kuzyakin if he was present at the discussion where he first met Ofitserov. Kuzyakin do not remember that. During the discussion they were told to cooperate with VLK, he says.
© RAPSI
Next to the stand: Dmitry Kuzyakin
13:15 He answers the questions concerning his business in 2009. At about 50 employees were engaged in business by that time. Shipments to VLK went low.
13:11 According to the witness, he was told that Ofitserov was appointed by the local government to watch after the prices, while Navalny was supervising.
13:09 Kuzyakin complained to Opalyov about cooperation with VLK, which was unproductive, and got a permission to find other partners to work with.
13:03 Next to the stand: Dmitry Kuzyakin, who headed Kirovo-Cherepovetsy timber company in 2009. He has seen Pyotr Ofitserov, who stands accused along with Navalny, once.
13:01 And we're getting ready to jump back into action. By the way, if you may check the video broadcast (in Russian) right from the courtroom.
11:50 We will reconvene at 13:00 Moscow time. See you back here then!
New witness
11:49 Bastrygina has been set free (finally) and a break has been called.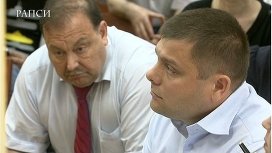 © RAPSI
Ousted lawmaker Gennady Gudkov (left) and Pyotr Ofitserov (right)
11:48 Bastrygina says that in 13 years of work, she's seen a lot.
11:47 Navalny inquires into the climate of the VLK, and Opalyov's reaction to the comments. Bastrygina says meetings were held; decisions were made, but nothing happened.
11:43 Specifically he wants to know how the problem was solved, who was engaged in crafting such resolutions, and what measures were taken. Bastrygina says an analysis of documents was carried out at the direction of upper management.
11:41 Navalny wants to know more about the growing production costs.
11:40 He wants to know whether the auditors had a list of companies. She says no - their requests were pretty simple.
11:39 Navalny is back at bat. He wants to know in particular which documents collected for the audit he was connected with.
11:38 Finally, the discussion is turning back to the audit.
11:37 Bastrygina shows her fatigue by flatly refusing to answer questions about timber production.
11:34 The industry banter was broken up by Bastrygina's cell phone - which sounds like the shenanigans of a young Japanese girl shouting gleefully in a high-pitched voice. Everyone in the courtroom laughs - even Bastrygina. As soon as order is resumed, the phone rights again. Hilarity ensues.
11:26 Ofitserov asks Bastrygina to explain what is meant by low-grade timber, in terms of what was shipped by VLK.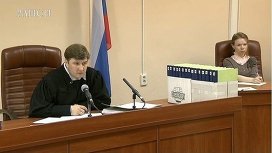 © RAPSI
Judge Blinov
11:24 He wants to know who earned what. Bastrygina finds herself unable to answer.
11:22 Ofitserov wants to know why there were problems with sales, and the two remain engaged in a heavily concentrated timber industry speak.
11:17 Navalny has finally stopped asking questions. Ofitserov is now up against the battle-weary Bastrygina.
11:15 Bastrygina can't say she's heard anything in particular about bribes, gifts, lobbying, etc. Navalny continues to dominate the examination - uninhibited for the most part by the judge or prosecutors.
11:12 Bastrygina refuses to comment on Opalyov's witness testimony.
11:11 Navalny wantsa to know: was anyone forced to enter into unfavorable contracts? According to Bastrygina, she heard that Ofitserov demanded supply shipments. When Navalny asks whether she means threats were exchanged, she answers that she does not know.
11:08 Navalny wants to know how many times Bastrygina recalls having seen Ofitserov in meetings with Shcherchkov, who - again - testified yesterday. She answers - probably two or three times. When Navalny asks if she's sure she's not confused, she can't say for sure that she's not confused.
11:00 Bastrygina seems about ready to burst into tears. Over the course of two hours, relative calmness gave way to shrillness, and in turn to a barely audible testimony, and matters seem to be getting worse.
10:52 Navalny presses Bastrygina asking if she cried because she had been accused of bribery along with Opalyov. The woman says she can't remember, but it was said once that all three thosand employees of Kirovles company are thieves.
10:51 Bastrygina confirms that Kirovles was the largest debtor in the region by that time.
10:50 Navalny reminds Bastrygina that she cried after a meeting with the Kirov region governor Nikita Belykh and asks for the reason. Bastrygina answers she was upset that VLK's problems were discussed instead of Kirovles company.
10:46 The shrillness we have grown so comfortable with has escaped Bastrygina's voice. It seems she is growing weary from this emotional battlefield.
10:45 Judge Blinov puts his foot down: no evaluative or suggestive questions. Navalny sighs.
10:43 Navalny's not giving up the good fight. He wants answers. How can shipments accounting for so little of a company's overall turnover constitute a major client?
10:40 Navalny asks the judge to oblige the witness to respond, adding: "She does not like laughter in the courtroom, but she tries to make jokes with me."
10:37 Navalny begins to ask his next question, at which point Bastrygina turns to the courtroom audience and declares: "What are you? Did you mean to come to the circus?" Navalny appears a bit unhinged himself, asking now whether the company may have been attacked by aliens....
10:34 Navalny, for the fifth time, repeats: can a company whose shipments account for 16 million of a billion-ruble-turnover business be considered a key client? Bastrygina says yes, it can.
10:32 For the fifth time, Judge Blinov asks the defense to stop arguing. Navalny repeats his question to Bastrygina, asking how VLK could have been the largest clients if their shipments accounted for only 16 million of Kirovles' billion ruble turnover. Everyone's confused. The judge asks Navalny to break it down into smaller questions.
10:30 The judge agrees to move forward as initially planned as long as everyone can control themselves at least to the extent of not cutting each other off.
10:26 Defense attorney Svetlana Davydova suggests that implementing such a system would demonstrate favoritism toward the prosecution due to the fact that the prosecutors didn't like some of the answers they received either, but the judge hadn't stopped everything for them.
10:25 In light of the "conflict" between the parties, the judge proposes an elaborate system whereby the defense and prosecution communicate about questions before the witness will be required to answer. The defense team indignantly protest.
10:18 We're back.
10:14 Bastrygina shoots back indignantly with a question of why he keeps pestering her with the same question. Presumably deciding everyone could use a breath of fresh air, the judge called a quick break.
© RAPSI
Bastrygina schools Navalny
10:14 Well, you can't please everyone. Navalny wants to know why she's smiling.
10:12 When pressed for more information about money and other such specifics she finds herself unable to answer, but she does smile nicely, so there's that.
10:10 Navalny is still interested in the role VLK purportedly played with Kirovles in monetary and supply terms. She is not giving a specific answer.
10:08 Bastrygina despairs at how she lost her job and struggled to get by. Navalny notes that we still haven't reached the point in the discussion where we turn to how she lost her job. Bastrygina's voice is getting higher and faster. She's not quite crying, but things are certainly tense.
10:06 Bastrygina schools Navalny, telling him he's not a timber expert. He shoots back that he's become one. As have we all, Navalny. As have we all.
10:05 "I refuse to answer!" Bastrygina bellows. To this, Navalny notes that she seems confused. She counters that Navalny is confusing her. The judge notes that Navalny doesn't seem to be particularly happy with the answers he's getting from her.
10:04 Navalny reminds Bastrygina that she is testifying in court of law and that she has to answer the questions she's asked. The presiding judge intervenes here, he brings Navalny down saying it's him who may remind the witness about her obligations under the law. Navalny calms down a bit. "The witness seems to be mixing up the establishment of a single timber trading platform for the Kirov forest and VLK," he says.
10:02 Emotions are palpable in the courtroom. This is hands down the most passionate face-off since the Opalyov interrogation. The body language is epic. All hands on hips and glowering stares.
9:58 Navalny is curious.... how, as a voluntary advisor to the governor, could he have dictated her moves in the upper eschelons of the company?
9:57 It's ok, Bastrygina, Navalny's back in his seat.
9:56 Navalny jumps out of his seat, visibly outraged by Bastrygina's testimony. She is visibly nervous.
9:54 Noting money that had been written off as untaxable, Navalny inquires how exactly it was written off. Bastrygina doesn't seem game to formulate an answer.
9:53 At the moment, that heated passion is lending itself to questions of accounts payable and accoutns receivable....
9:52 The prosecutors really went to town on her, perhaps owing to how much she seems to be able to remember from that year which for so many seems to have slipped into a black hole. Now Navalny's examining her, with heated passion.
9:51 Bastrygina is a teacher by training. She says Opalyov never told her anything was wrong - that she could just sense it.
9:49 Ultimately, the contract with VLK was broken. But lots of debt was left in its wake.
9:46 When the prosecutor asks her to describe the relationship between Navalny, Ofitserov, and Opalyov she says that she's only familiar with the way that they act in the work place, but that generally came together and represented a unified front.
9:45 Things are getting tense between Navalny and Bastrygina.
9:43 According to Bastrygina she was asked to provide all the necessary documents for the audit. She asked for the governmental executive order first and refused. Navalny told her the order's on its way. Finally he brought a paper without any signs and stamps, Bastrygina says. She refused to provide the documents once again, and Navalny started bugging other employers. She has no idea what they were asked for.
9:40 The judge asks for clarification on what exactly Ofitserov says. Bastrygina answers that it had to do with speaking out against the audit, but she doesn't remember how specifically.
9:38 She says that Navalny claimed that the audit was conducted incorrectly, defending the VLK deal. Ofitserov defended it to. She notes that she was surprised that a commercial organization would be playing such a strong role in resolving issues of public property.
9:37 As Bastrygina remembers it, the auditors drew two conclusions: sales had declined (obviously; let's recall the financial crisis), and the contracts with VLK didn't seem to actually be profitable.
9:36 The inspectors requested supply contracts in order to compare them with similar papers from before. She and the other high-ranking officials were questioned. But ultimately the auditors seemed to be primarily interested in marketing.
9:34 In answer to the prosecutors' questions, she says that there were audits in 2009, carried out by Vyatky-Audit.
9:32 She notes that while the cost of wood didn't increase, overall costs did.
9:30 VLK ultimately took over several Kirovles contracts. While the cost remained the same, timber companies were then required to pay interest to VLK.
9:28 She describes as well a sort of collective pooling system, whereby the timber companies would help each other out in terms of salary payment and other issues when necessary.
9:22 When asked how the timber industry leaders at the time responded to the idea that all timber shipments must go through VLK, she said at first they were hesitant but then they were happy with the idea.
9:18 Side note: this trial has become something of a cause celebre. Opposition activist Boris Nemtsov was here yesterday, and today ousted opposition lawmaker Gennady Gudkov is here in his place.
9:15 According to her, the trading platform had to be established due to low-grade wood.
9:14 She says that Navalny told her that the present timber sales contract was ineffective and that a new one was needed. He further proposed the establishment of a single timber trading platform for the Kirov forest.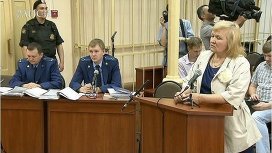 © RAPSI
The first witness of the day is Larisa Bastrygina
9:12 She recounts having met Navalny at a meeting with Shcherchkov (who testified during yesterday's hearing). After the meeting, she says that Opalyov asked to go to Navalny's office. She wasn't sure who Navalny was at the time, but soon learned he was an advisor to the governor.
9:09 The first witness of the day is Larisa Bastrygina, who served as first deputy chief of Kirovles in 2009. She knows Navalny.
9:07 At the moment we have four witnesses here and ready to testify. For an idea of what to expect, check out yesterday's broadcast. Spoiler alert: you'll be fluent in timber industry speak by the time we're done with you.
9:05 And we're in action.
9:02 Like yesterday, we'll be broadcasting video of the trial live here. Fair warning: it's in Russian. So if - due to your passion for timber, embezzlement, Kirov, Navalny, etc. - it's important to you to follow as closely as possible, but you're prevented from doing so via video due to language skills, we recommend watching and reading this feed simultaneously. Oh. And prove your status as the ultimate timber fan once and for all by tuning into our Twitter and Facebook accounts at the same time.
8:50 Good morning and welcome to Day 4 of RAPSI's live broadcast of the timber embezzlement trial of the century, featuring Alexei Navalny. With you for today's gripping events are Maria Gusarova, Vladimir Yaduta, and Ingrid Burke.
Background
According to investigators, while serving on a voluntary basis as an adviser to the Kirov region governor, Navalny organized the theft of over 10,000 cubic meters of timber. It was allegedly stolen from Kirovles company between May and September 2009 in collusion with Vyatka Timber Company Director Pyotr Ofitserov and Kirovles CEO Vyacheslav Opalyov.
The regional budget is estimated to have suffered the loss of 16 million rubles ($514,140) as a result.
Navalny said in the interview with Dozhd TV earlier this month that he expected a conviction in the present case and announced his intention to run for the Russian presidency.
Investigators have since opened three other criminal cases against Navalny, on charges of embezzling from a political party, deceiving an international cosmetics company and conspiring to privatize a central Russia distillery illegally.
The Kirovles embezzlement case reached the court in late March. If convicted Navalny along with Ofitserov faces up to ten years in prison, and will be ineligible for public office even if slapped with probation. Opalyov, who has entered into an agreement with the prosecution, got 4 years suspended sentence.
Proceedings
The trial began on April 16, but was promptly postponed based on a request by Navalny's legal team for more time to prepare its defense. The hearing has been rescheduled to start the following week, on April 24.
In appealing for the postponement, Navalny noted that he had not yet exhausted all appeals in his effort to transfer the proceedings from Kirov to Moscow, and that he had not expected the case to move forward in Kirov prior to the final outcome of this decision. He explained further that he had recently added a local Kirov lawyer to his team. The local lawyer needed more time to prepare.
The judge held that Navalny's team should be afforded a week to prepare for trial.
The following week's hearing inspired Navalny's defense team to seek a replacement judge based onallegations of impropriety during witness examination.
Numerous heads of logging companies testified throughout the day on timber production, pricing, and various other topics unique to the industry. Notably, some of these witnesses have since left their positions.
The hearings picked back up Wednesday, a day filled with the testimonies of one witness after the next in the form of high-ranking members of the logging industry. Many of the testimonies touched on the financial strain Kirov endured in 2009. There was a great deal of discussion as well of VLK, a shipping company that offered bargain rates during the time.
Navalny played an active role Wednesday in questioning the witnesses.
Thursday is expected to be another action-packed day.