May 6 rally organizers received monthly payments - prosecutor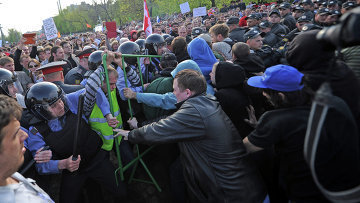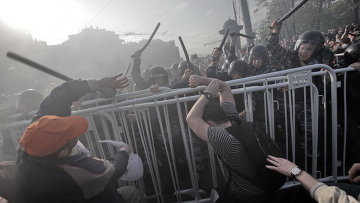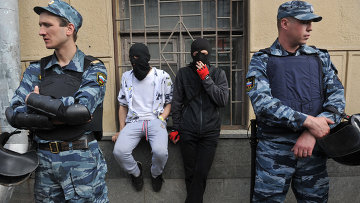 17:06 22/04/2013
MOSCOW, April 22 (RAPSI) - The suspected organizers of the protests in Moscow's Bolotnaya Square on May 6 received 50,000 rubles ($1,590) per month in compensation, a prosecutor told the Moscow City Court during the hearing in the case against Konstantin Lebedev on Monday.
According to the prosecutor who read the conviction, Lebedev and his accomplices agreed on the time, the location and the plan of the riots.
Later, they met with individuals who openly support anti-government views and gave them booklets and leaflets for distribution.
According to the investigators, Lebedev managed and distributed funds that the organizers received from Georgian politician Givi Targamadze to organize the riots.
"Lebedev awarded 50,000 rubles monthly to himself, Sergei Udaltsov and Leonid Razvozzhayev. He also gave them cash to rent an apartment for closed meetings, to buy a car, to pay a print shop and to take care of other expenses," he said.
He added that Lebedev also purchased tents to set up a camp in the square and organized a practice camp in Lithuania. "Lebedev's job was to manage the riots and to report to Targamadze," he said.
According to the prosecution, Lebedev and his accomplices arranged for the rioters to break through a police cordon, used violence, ignored police orders, threw rocks, smoke grenades and homemade bombs at the police, and destroyed property.
The mass riots took place at a Moscow protest rally on the eve of Vladimir Putin's inauguration last May for a third presidential term. The rally ended in violent clashes between protesters and the police. Over 400 people were arrested and scores were injured when protesters briefly broke through police lines in a bid to take their protest to the Kremlin walls.
The case was inititated after the "Anatomy of Protest 2" documentary film was shown on the NTV broadcasting network. The film claimed that the opposition was organizing a coup using funds from abroad and showed Left Front movement coordinator Udaltsov and his companions allegedly talking with Targamadze, who at the time headed Georgia's Parliamentary Defense and Security Committee, and is said to have been involved in planning the "color" revolutions in Georgia and Ukraine, as well as the mass riots in Belarus.