Pakistani court orders former president Musharraf's arrest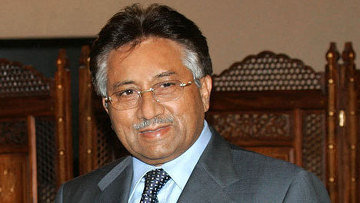 11:54 18/04/2013
MOSCOW, April 18 (RAPSI) - A Pakistani court has ordered the arrest of former president Pervez Musharraf, who returned to Pakistan last month to run for parliament, Reuters reports on Thursday, citing local television channels.
Last week the Pakistani Supreme Court began hearing a high treason case against Musharraf. On Thursday, Islamabad High Court ordered his arrest. Although the police tried to detain him, Musharraf managed to leave the court building accompanied by his bodyguards, who drove him away in an armored vehicle.
The former army chief returned to Pakistan last month after nearly four years of exile, despite death threats from the Pakistani Taliban. He applied to run for the National Assembly, but the court barred him from running due to Musharraf's alleged violation of the constitution in 2007 when he declared a state of emergency. Musharraf is suspected of involvement in the murders of Baloch tribal leader Akbar Bugti in 2006 and ex-Prime Minister Benazir Bhutto in 2007.
Musharraf seized power of the country by way of a successful coup detat in 1999. He retained control until a dramatic series of events led him to relinquish his power in 2008.