Court to consider Bolshoi acid attack suspects' release - live coverage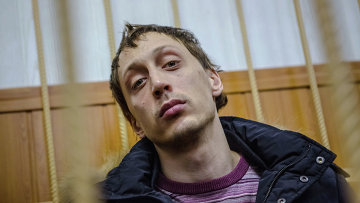 16:52 15/04/2013
RAPSI will be live on the scene as Moscow's Tagansky District Court decides whether to extend the detention Bolshoi Theater leading soloist Pavel Dmitrichenko and two suspected accomplices in connection with the brutal acid attack that left Bolshoi Artistic Director Sergei Filin with third degree burns to his face and eyes.
The live text feed will commence at 10:45, Moscow time (GMT+4), April 16th. You may find the full text of our previous broadcast here.

Bolshoi Theater principal dancer Pavel Dmitrichenko and two others have been detained in connection with the acid attack against artistic director Sergei Filin.
Dmitrichenko and the other two detainees have submitted written confessions. Video footage of Dmitrichenko's confession was then leaked and is available here, in Russian.
Dmitrichenko's contended at the initial hearing, however, that he had not intended to cause bodily harm to Filin.
Some have insinuated that Dmitrichenko's confession may not have been truly voluntary. At his initial detention hearing early last month, various of his colleagues claimed that the confession was forced and that despite his explosive temper, he could never cause such harm to another human.
Shortly thereafter upwards of 300 members of the Bolshoi's cast and crew wrote an open letter to the Russian president and government urging his innocence: "Having known Pavel personally for many years, we are convinced that despite his notorious temper, his hot-headedness and his straightforwardness, he is a very decent and sympathetic person who is always ready to extend a helping hand… The investigation's findings seem too rushed, the evidence seems unconvincing and we view Pavel's testimony, which was later changed, as given under pressure."
If convicted, the assailants could face up to eight years in jail for willfully inflicting damage on the health of another.
Sergei Filin, 42, joined the Bolshoi as a dancer in 1988, after graduating from the Moscow School of Choreography. He has also been invited on several occasions to dance with the English, Hungarian and Japanese national ballets, as well as at many other theaters. He ended his dancing career in 2008. In March 2011, he was appointed artistic director of the Bolshoi Theater amid fierce rivalry for the position.
On January 17, an assailant heaved what is believed to have been concentrated sulfuric acid in Filin's face as he attempted to enter his home. Filin suffered third degree burns. Despite initial fears to the contrary, he is expected to recover his vision. Shortly after the attack, a Bolshoi Theater spokesperson confirmed that Filin had recently received threats.
On March 5 the Interior Ministry announced the arrests of the alleged perpetrators of the attack. Yuri Zarutsky, who is suspected of having physically carried out the attack, was detained in Russia's Tver region. Andrei Lipatov, who is suspected of having been the driver in the operation, was also arrested. Leading soloist Pavel Dmitrichenko was arrested on suspicion of having paid the other two to carry out the attack.
A police spokesman echoed this sentiment Tuesday when telling RIA Novosti that "The motive for the crime lies in [Filin's] hostile relations with Dmitrichenko connected to his work."
Filin has speculated the aim of the attack was to remove him as artistic director and destroy the prestigious Moscow ballet company's reputation. Filin is currently undergoing treatment in Germany.