Businesswoman who defrauded Turkmenistan for $20 mln to stay under arrest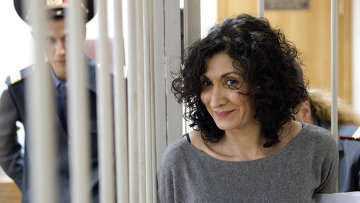 14:02 25/03/2013
MOSCOW, March 25 - RAPSI. The Moscow City Court has upheld the decision to extend the detention of a suspect in a $20 million embezzlement case in Turkmenistan until April 11, RAPSI reports from the courtroom on Monday.
Aisoltan Niyazova, former chairperson of the board of directors of Index Bank, is charged with stealing the money from the Central Bank of Turkmenistan. Her attorney, Alexander Yakovenko, asked the court to relax her pretrial restrictions, citing her good credentials. The prosecutor, however, said Niyazova was on the wanted list for many years and may go into hiding again if released from custody.
Investigators believe Niyazova embezzled the money from Turkmenistan in 2002 and later participated in schemes for illegally transfering it to banks in other countries, including Russia.
According to the Prosecutor General's Office, she ran a criminal group and orchestrated the money laundering scheme. In 2010, businessman Savely Burshtein was convicted for this case, and chairman of the board of Russian Deposit Bank Dmitry Leus was convicted in 2004, while another individual, former Turkmenian Central Bank employee Murad Garabayev, was acquitted.
Niyazova entered a plea of not guilty.
Her case is now being considered by the Zamoskvoretsky District Court in Moscow, based on evidence presented by the prosecutors. Niyazova has been on the international wanted persons list since April 2003. In January 2011 she was arrested in Switzerland and extradited to Russia. She has been in custody since that point.
Index Bank was established in 1993 in Lvov, Ukraine. In 2006, Credit Agricole group acquired 99.967% of the shares in the bank.