Aeroflot temporarily limits directors' access to internal documents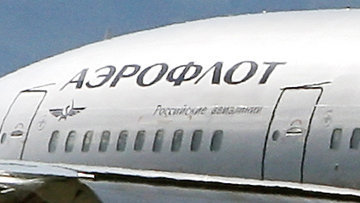 16:52 22/03/2013
MOSCOW, March 22 - RAPSI. Aeroflot has temporarily limited its directors' access to operational records to prevent corporate information from leaking to the media, a company source told the Prime business news agency on Friday.
The restrictions have been introduced for a period until May 7, as the company expects to track the individual responsible for previous leaks by that time.
"There have been three cases where information provided to the board of directors was leaked to Kommersant," the source said. "As the news appeared in Kommersant before the board passed a decision, it could have influenced the decision-making process."
The move is likely linked to an Aeroflot director's conflict with the management board, Vedomosti reported. Director Alexei Navalny claimed that the company's contract with Tina Kandelaki's PR agency Apostle Media was signed unlawfully and asked the airlines' general director to investigate the issue.
He wrote in his blog about arguments that have ensued about the restricted access to operational records. However, the information about the contract with Apostle has not been linked to the media, he pointed out.
According to Navalny, these restrictions are unacceptable and are "the worst corporate governance practice" at Aeroflot. The contract with Apostle was signed before Russia adopted a state procurement law requiring all state contracts valued above 20 million rubles ($647,460) to be awarded on a competitive basis, an Aeroflot source told Prime.
Navalny, who was provided with the contract records, has signed a non-disclosure agreement. However, he posted the confidential information on his blog, the source added.
Aeroflot is a member of the global SkyTeam alliance and is based at Sheremetyevo airport in Moscow. In 2011, Aeroflot transported over 14 million passengers. The Federal Agency for State Property Management is Aeroflot's main shareholder, with a 51.17 percent stake in the company. Around 15 percent of the shares are held by entities owned by businessman Alexander Lebedev.