Opposition leader Sergei Udaltsov ordered to wear tracking bracelet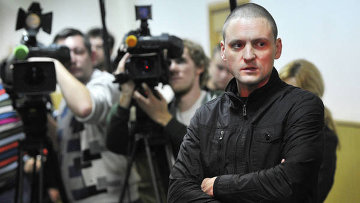 11:01 07/03/2013
MOSCOW, March 7 - RAPSI. Sergei Udaltsov, a leftist opposition leader placed under house arrest as part of the case of the May 2012 riots on Bolotnaya Square, will be monitored by an electronic bracelet, spokesperson of the Federal Penitentiary Service Kristina Belousova told RIA Novosti.
Formerly, he was monitored by service employees, who visited him at least twice a week.
Belousova said that if Udaltsov leaves his home, the tag will transmit this change in his whereabouts to the monitoring board. If he does this repeatedly, the court may place him in detention.
It was announced on Wednesday that Udaltsov's aide Konstantin Lebedev, who is suspected of planning riots in Russia, and fraud suspect Yevgenia Vasilyeva, who is involved in the now infamous Oboronservice defense holding corruption case, were also ordered to wear electronic bracelets.
According to the electronic tagging regulations which the government approved in late February, suspects and convicts on house arrest will be monitored by electronic bracelets using the GLONASS/GPS system.
Left Front coordinator and opposition figurehead Sergei Udaltsov is being prosecuted as a result of the probe into the circumstances portrayed in the higly controversial "Anatomy of Protest-2" documentary. The film claims that Udaltsov and his supporters planned to stage mass riots and a coup using funding from the Georgian leadership, which is at odds with the government of Russian President Vladimir Putin.