Interavia bankruptcy procedure extended for three months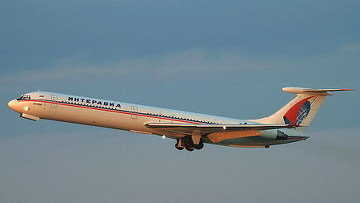 15:10 28/02/2013
MOSCOW, February 28 - RAPSI. The Moscow Commercial Court has extended the bankruptcy proceedings for Interavia Airlines, the court told RAPSI on Thursday.
The extension request was filed by the bankruptcy manager Ilya Presnyakov on the grounds that the actual accounts receivable amount to 25 million rubles ($816,990).
A representative of the Financial Leasing Company, which is a creditor in the case, objected to the extension. He said the airline virtually has no funds left and extending the procedure will only result in an increase in the receiver's expenses.The representative also said the debtor is liable to its creditors, but the receiver entered into an agency contract worth 1.1 million rubles ($34,500) with a private entrepreneur to represent Presnyakov's interests in court during the bankruptcy proceedings. This infringes the creditors' interests, he said.
The court will consider the manager's bankruptcy proceedings report on May 16.
On January 28, 2010, the Moscow Commercial Court ruled for Interavia's bankruptcy and appointed Presnyakov as the bankruptcy receiver. The company's accounts payable amounted to 817 million rubles ($25.62 million) and the accounts receivable, which could be recovered, amounted to 5-6 million rubles ($156,800-$188,160).
A statement on Interavia's insolvency was submitted to the commercial court on February 27, 2009. The airline stopped all its flights in winter 2009.
The Federal Agency for Air Transport withdrew the airline's operation certificate in early February 2009, as the airline company "did not rectify a breach found by the agency within three months of the air operator's certificate being suspended."