Border guard sentenced to two years in Swedish teddy bear case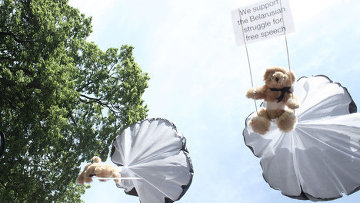 16:27 18/02/2013
MINSK, February 18 - RAPSI. A Belarusian border guard who failed to report to his superiors a Swedish plane that illegally crossed the border has been sentenced to two years in a high security prison, the Belarusian Supreme Court told RIA Novosti on Monday.
A Swedish plane crossed Belarusian airspace in early July and discharged over Minsk and around the country teddy bears equipped with posters supporting freedom of speech. They were dubbed "teddy bear paratroopers" by the media.
Investigators uncovered that a border guard patrol had detected the plane when it crossed the border from Lithuania.
"The patrol passed the information along to the border post. However, the individual on duty did not report this to the unit officer in violation of the established procedure," the Investigative Committee stated in its report.
As a result of the incident, Belarusian President Alexander Lukashenko dismissed State Border Committee Chairman Igor Rachkovsky and Air Force and Air Defense Commander Dmitry Pakhmelkin.
A number of military and security chiefs were also officially reprimanded. The Belarusian security service initiated a criminal case.