Russian ex-colonel sentenced to 13 years for Crossbow Coup plot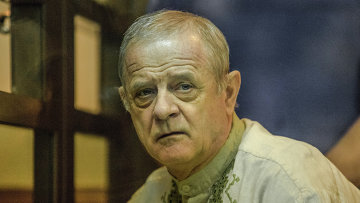 16:46 08/02/2013
MOSCOW, February 8 - RAPSI. Former intelligence officer Vladimir Kvachkov was convicted on Friday of having plotted to overthrow the government in the final hearing of what has come to be popularly known to as the Crossbow Coup case.
Moscow City Court Judge Pavel Melekhin sentenced Kvachkov to 13 years in a maximum security penal colony. For context, prosecutors had requested 14, and he faced a maximum of 20 for his crimes.
You may find the full text broadcast here.
Kvachkov is thought to have masterminded a coup d'état plot wherein he and a small group of his followers would oust the government. According to Kvachkov, authorities claim he intended to carry out the coup with a small team of followers armed with crossbows.
The former intelligence officer has denied the charges, claiming that they lack any legitimate basis. Kvachkov said he has been accused of organizing a group of recruits from his People's Liberation Front of Russia armed with crossbows to carry out a coup. From his own words the indictment is based on testimonies of one People's Liberation Front member accused of extremism.
Kvachkov himself has stressed that the accusations against him are baseless and denies his guilt. He specifically refuses to admit guilt based on his view of the illegitimacy of the Russian government, which – as he sees it – holds power unconstitutionally.
He was arrested and charged with organizing a coup plot just one day after he was acquitted of charges relating to the attempted assassination of privatization czar Anatoly Chubais.
At one point during Friday's sentencing hearing, Judge Melekhin noted his disagreement with the sentiment that Russian citizens have a fundamental right to overthrow their own government.