Judgment day for ex-intelligence officer and his crossbow coup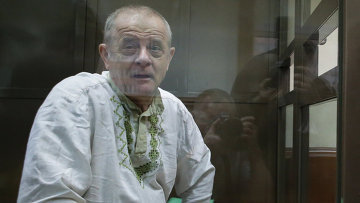 15:57 07/02/2013
MOSCOW, February 7 - RAPSI. The Moscow City Court is expected to decide Friday on the guilt or innocence of former intelligence officer Vladimir Kvachkov, who stands accused of having masterminded a coup d'état plot in what has come to be popularly known as the Crossbow Coup case. Kvachkov faces up to 20 years in prison if convicted, though prosecutors are seeking only 14.
You may follow a full text broadcast here.
The Crossbow Coup
Kvachkov presently stands accused of having masterminded a coup d'état plot wherein he and a small group of his followers would oust the government. According to Kvachkov, authorities claim he intended to carry out the coup with a small team of followers armed with crossbows.
The former intelligence officer has denied the charges, claiming that they lack any legitimate basis. Kvachkov said he has been accused of organizing a group of recruits from his People's Liberation Front of Russia armed with crossbows to carry out a coup. From his own words the indictment is based on testimonies of one People's Liberation Front member accused of extremism.
Kvachkov himself has stressed that the accusations against him are groundless and has so far denied his guilt.
He was arrested and charged with organizing a coup plot just one day after he was acquitted of charges relating to the attempted assassination of privatization czar Anatoly Chubais.

The Chubais affair
In 2005, the motorcade of then-Privatization Minister Anatoly Chubais was attacked by a combination of road-side bombs and automatic gunfire.
Kvachkov was acquitted by the Supreme Court on December 22, 2010 of having organized the assassination attempt. In so holding, the Supreme Court upheld an earlier jury acquittal which had been based on the prosecutors' lack of sufficient evidence. After Kvachkov was acquitted in the case he was awarded 450,000 rubles as compensation for moral damages, although he had initially sought some 50 million rubles.
Kvachkov's early years
According to his official website, Kvachkov was born to a military family on August 5, 1948. He spent his childhood in Ussuriysk, a city in Russia's far east. He studied at a military academy and began his career in the field shortly after graduating. In 1981, he became an intelligence officer.
In 1983, when the USSR invaded Afghanistan he commanded the Special Forces there. In 1984, after sustaining a head injury, he was awarded the highly prestigious Order of the Red Star. He later received the Order of Courage. In 1994, he began serving as a high-ranking officer in the Main Directorate of Intelligence. It is unclear from his personal biography when the ties between him and the military were severed, but he is said to have been honorably discharged in 1998. Kvachkov is a married father of four. He has two grandchildren.
The following day, Moscow's Lefortvosky District Court issued a warrant for the retired colonel's arrest as part of a new case: that of the Crossbow Coup. Shortly thereafter, Kvachkov's counselors filed a claim with the European Court of Human Rights challenging the validity of his arrest and further prosecution.