Refusal to approve appeal against government inaction on bill disputed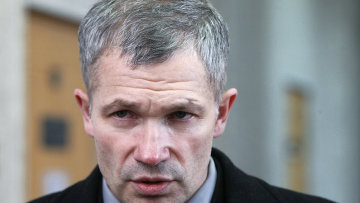 14:39 29/11/2012
MOSCOW, November 29 - RAPSI. Attorney Igor Trunov, who represents the interests of the family of Olga Alexandrina who died in a car accident involving a LUKOIL vice president, has disputed the dismissal of his appeal against the government's inaction, according to the official website of the Trunov, Aivar and Partners law firm.
Trunov believes that the government has failed to draft in a timely manner a bill regulating the legal proceedings for cases when the defendants are dead.
Earlier, Trunov reported on his website that he had filed a lawsuit against Prime Minister Dmitry Medvedev that would require the authorities to draft the bill. He said he filed a complaint with the government in October that was related to the high-profile case.
Investigators believe that Alexandrina was responsible for the accident.
Earlier, Trunov said the Constitutional Court found that the Criminal Procedural Code provisions prohibiting trials in the event that a defendant is dead do not correspond with the law.
He said such cases were previously sent to the archives, but after a Constitutional Court ruling, the government had to draft amendments to the law within three months.
However, the attorney stressed that 15 months have already passed since the ruling.
A car accident involving a LUKOIL vice president occurred in Moscow on February 25, 2010. Renowned doctors Vera Sidelnikova and Alexandrina died in the crash.
LUKOIL Vice President Anatoly Barkov received minor injuries. The accident sparked a public outcry as many believed the executive was responsible. In 2010, investigators concluded that Alexandrina was liable for the accident. However, Alexandrina's family disputed the ruling. The investigation was reopened in July 2011 following the Constitutional Court's consideration of their application.