Officials charged over fatal flood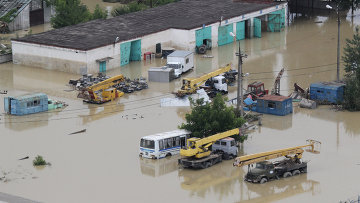 11:27 27/11/2012
MOSCOW, November 27 - RAPSI. Four people were charged over fatal floods in southern Russia that killed at least 171 in July, investigators said on Tuesday.
Three former officials ­- Krymsk district head Vasily Krutko, Krymsk mayor Vladimir Ulanovsky and village chief in nearby Nizhnebakansk Irina Ryabchenko ­- along with acting head of the district's emergency response department, Viktor Zhdanov, have been charged negligence and abuse of office.
The Investigative Committee says the four failed to alert residents of a fast-approaching heavy thunderstorm. As a result many of those dead were sleeping at their homes when the flooding reached their doorsteps.
The local meteorological service issued alerts warning of possible torrential rains and flash floods on July 5, but local authorities took no action before the floods hit the following day.
Krutkov, Ulanovsky and Zhdanov remain in custody. If convicted the four face up to seven years in prison.
Zhdanov is also charged with attempted fraud. The investigators suspect that he deliberately put the address of his house in the list of buildings destroyed by the disaster, while his house wasn't hit by the floods.
"He and four of his family members were listed as victims in the documents in an attempt to get compensation of 50,000 rubles ($1,600)," the Investigative Committee said in a statement.