Norilsk Nickel disputes to nullify buyback resolution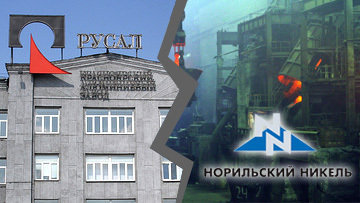 16:43 12/11/2012
MOSCOW, November 12 - RAPSI. The Third Commercial Court of Appeals has registered Norilsk Nickel's appeal against the court ruling to nullify acts approved by its board of directors on stock repurchasing in September 2011, the court told the Russian Legal Information Agency (RAPSI/rapsinews.com) on Monday.
The company has appealed the Krasnoyarsk Territory Commercial Court's ruling dated October 16. At the time, the court upheld an application filed by OK RUSAL Investment Management, which owns a 25 percent plus one share stake in Norilsk Nickel, to nullify decisions made by Norilsk Nickel's board on September 13 and 21, 2011, which approved the repurchasing of 7.7 percent of the company's shares for its subsidiary Norilsk Nickel Investments Ltd.
As part of the buyback, Norilsk Nickel bought 14.7 million ordinary shares, or 7.7 percent of its charter capital. The stake was worth $4.5 billion. One share cost $306, with the ADR priced at $30.60.
The buyback parameters fully corresponded with the parameters of an offer made to RUSAL to buy 15 percent of Norilsk Nickel. However, RUSAL refused to accept the offer.
RUSAL earlier reported that it does not support Norilsk Nickel's buyback. The company believes that the procedure was not directed at securing all the shareholders' interests, but rather at benefiting Interros, a major shareholder that sought total control over the company and its funds.
After the repurchasing of the shares, which took place without the necessary permission of the government's foreign investments commission, the Interros group of companies, which also comprises Norilsk Nickel and NN Investments, illegally increased its control over Norilsk Nickel, Rusal stressed, adding that it is a firm of strategic importance for the country.
According to the aluminum company, following a series of shares buyouts conducted under the same scheme, Norilsk Nickel spent $9 billion in 2011, which could have been allocated to develop production and resolve the company's social and economic issues. This is why the current market price of shares purchased by Norilsk Nickel in 2011 is about $5 billion, it said.
Norilsk Nickel is a diversified ore mining and smelting company, and the world's leading nickel and palladium producer. It operates industrial facilities in the Norilsk industrial region and on the Kola Peninsula in Russia, Finland, the United States, Australia, Botswana and South Africa.