Teacher and two chemists detained in radioactive meth lab case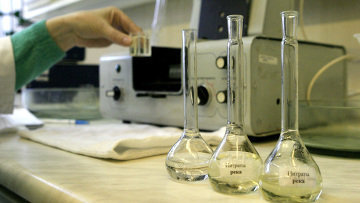 16:17 07/11/2012
MOSCOW, November 7 - RAPSI. Police officers have detained three individuals suspected of having created a radioactive drug laboratory in Moscow, deputy head of the Federal Drug Control Service's Moscow department Ivan Yelisavetchenko, told journalists Wednesday.
"One of the defendants is a teacher at the lyceum, two others are amateur chemists," Yelisavetchenko said. Some 120 grams of amphetamine and more than 1kg of heroin was found during the searches.
In July, the service's Moscow department started receiving information on existence of a laboratory producing amphetamine in Moscow; the Federal Security Service said that suspects might be involved in illegally storing radioactive substances.
Four sources of ionizing radiation were found in the car of one of the defendants. Some reports claim that the detained might be connected with a terrorist group.
Also radioactive materials derived from strontium and lithium, which are used in military radiometers and soil from Chernobyl, were withdrawn as well.
The final purchase took place on October 17. Initially, two suspects were detained and drugs were withdrawn from them. Arrested individuals said that they purchased heroin from St. Petersburg. They used drugs and sold them. They were found to have some 14 boxes with chemicals for producing amphetamine during searches.
Further a third member of the group was identified - the teacher. During the searches at his office and apartment no drugs were found, but radioactive substances were revealed.