'Innocence of Muslims' banned in Russia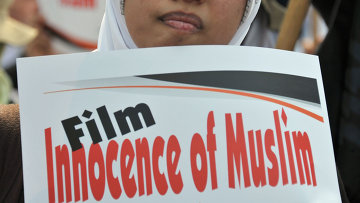 11:00 07/11/2012
MOSCOW, November 7 - RAPSI. Moscow Tverskoy District Court's ban of the controversial "Innocence of Muslims" film has come into effect today.
A similar ruling was recently handed down by the Leninsky District Court in Grozny, Chechen Republic.
On September 8, the trailer for a low-grade and (at that point) almost universally unknown film aimed at discrediting Islam was aired by an Egyptian television network. The footage had been uploaded in June, but attracted little attention prior to its televised debut. The trailer, which depicts the Prophet Mohamed as something of a pervert, evoked a rage that soon boiled over in the form of anti-American protests staged at US embassies and consulates in Egypt and Libya.
The United States is strengthening the security of its diplomatic staff in countries where they could be subject to attack, while a number of nations have blocked access to the film. Meanwhile, Google has only honored requests to remove clips of the film from its video-hosting services in certain countries based on government requests.