Former Ukrainian prime minister Lazarenko to be released from U.S. prison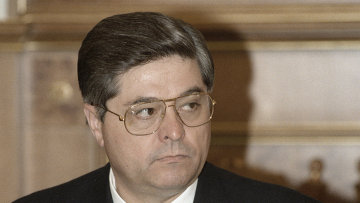 17:14 01/11/2012
KIEV, November 1 - RAPSI. Former Ukrainian Prime Minister Pavlo Lazarenko will be released from a U.S. prison on Thursday.
After being released, Lazarenko will go to his U.S. estate, and then decide where to live and what to do for a living, Viktor Chevguz, an attorney for the former prime minister, told the Ukrainian newspaper, Segodnya.
The newspaper reported that on Thursday, Lazarenko, 59, will be released from Terminal Island prison in California. The former official spent over 10 years in prison after being convicted of money laundering and extortion.
The Ukrainian Prosecutor General's Office says it still has questions for Lazarenko, and that he will be arrested if he returns to Ukraine.
Lazarenko has also been accused of ordering contract murders in Ukraine. Ukraine has repeatedly requested his extradition, but the United States refused, referring to the absence of an extradition agreement between the countries. Ukrainian law enforcement authorities allege that former Ukrainian Prime Minister Yulia Tymoshenko, then the head of United Energy Systems of Ukraine (UESU), was involved in Lazarenko's affairs.
In October 2011, Tymoshenko was sentenced to seven years in prison for abuse of power based on a 2009 gas contract that she signed with Russia. She is serving her sentence in a Kharkiv women's prison. She has been receiving treatment at a Kharkiv hospital since May 2012. She was diagnosed with a spinal disc herniation.
In late March, a second case was initiated against Tymoshenko. Charges were filed with Kharkiv's Kievsky District Court. The case involves her activity at UESU. She is accused of misappropriating funds.