Razvozzhayev's defense disputes gag order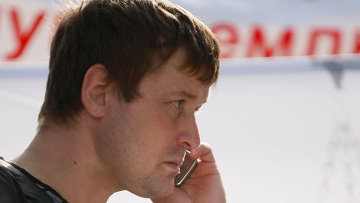 17:55 30/10/2012
MOSCOW, October 30 - RAPSI. The defense of Leonid Razvozzhayev, who is accused of organizing mass riots, has appealed the gag order imposed against it during the investigation, his lawyer Dmitry Agranovsky told the Russian Legal Information Agency (RAPSI/rapsinews.com) on Tuesday.
"I have just submitted a motion to investigators to invalidate the gag order imposed against me and Razvozzhayev's other lawyer," the attorney said.
The criminal case involving Razvozzhayev, Left Front movement coordinator Sergei Udaltsov and his aide Konstanin Lebedev was initiated after the TV premiere of the film, "Anatomy of Protest 2." The filmmakers allege the opposition is plotting a coup using foreign funds.
Pursuant to the ruling, Razvozzhayev and Lebedev have been held in an investigative isolation ward.
Udaltsov has been released under his own recognizance.