Russian oppositionists released in aftermath of unsanctioned rally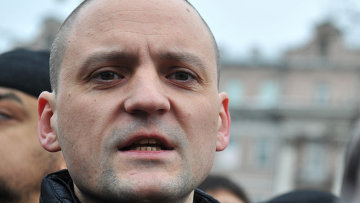 11:15 29/10/2012
MOSCOW, October 29 - RAPSI. Oppositionists Sergei Udaltsov, Alexei Navalny and Ilya Yashin, who were detained on Saturday when holding rallies in support of political prisoners for disturbing public order, have been released after administrative penalty charges were drafted.
Udaltsov told RIA Novosti that he was charged with violating the established procedure for holding rallies (Article 20.2 of the Code of Administrative Offences) and would be required to appear before the court on October 30.
He said that he plans to object to the charges in court.
A series of rallies in support of political prisoners were held in central Moscow on Saturday. According to the organizers' plan, people were supposed to stand holding posters 50 meters away from each other from Lubyansky Passazh to Tekhnichesky Pereulok, where the Investigative Committee is located.
On Friday, the Investigative Committee officially charged Left Front movement coordinator Sergei Udaltsov with organizing mass unrest. The criminal case was opened after the film "The Anatomy of Protest 2" was broadcast on NTV channel. The filmmakers claimed that the opposition was preparing a coup d'etat using foreign funds. Udaltsov, his attorney Konstantin Lebedev and oppositionist Leonid Razvozzhayev are defendants in the case.
The film shows Udaltsov and his companions talking with the then Georgian parliament's defense and security committee head Givi Targamadze, who is said to be experienced in planning "color" revolutions in Georgia and Ukraine, as well as mass riots in Belarus.
The investigation into the film established that the voice in the scenes filmed by a hidden camera was Udaltsov's and that the meeting shown in the film took place in Minsk in late June 2012.