ECHR holds in favor of members of banned National Bolshevik Party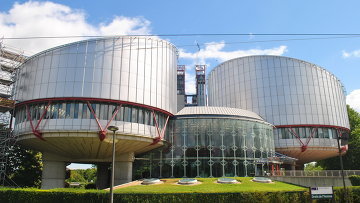 15:51 23/10/2012
MOSCOW, October 23 - RAPSI. The European Court of Human Rights (ECHR) has held in favor of three members of the National Bolshevik Party, which is banned in Russia. The court obligated the authorities to pay them €14,000 in damages.
The claim arose from the detention of party members, while the criminal case concerning the 2004 raid on the presidential administration was being considered.
The application was filed in June 2005.
The incident took place on December 14, 2004. Roughly 40 National Bolshevik Party activists stormed the presidential administration's community liaison office and hindered its work.
A year later, the court issued suspended sentences to 31 defendants in the case. Eight individuals were sentenced to prison terms ranging from 1.5 to 3.5 years.
The court found all the defendants guilty of taking part in mass riots.
The applicants said Article 3 on the prohibition of torture and Article 5 on the right to freedom of the European Convention on Human Rights and Fundamental Freedoms were violated. They added that their detention was groundlessly long during the case's consideration. They said the detention terms at the investigative isolation wards were poor, particularly mentioning that the cells were overcrowded.
The ECHR satisfied the application, obligating the government to pay 6,000 euro to party members Alexei Zentsov, 30, from Novosibirsk, and Ivan Drozdov, 28, from the Moscow Region. According to the court's ruling, 2,000 euro will be paid to Lira Guskova, 30, from Kazan.