Prosecution believes sale of Pussy Riot t-shirts caused religious offence
13:16 23/10/2012
NOVOSIBIRSK, October 23 - RAPSI. On Tuesday, prosecutors in Novosibirsk initiated two administrative cases against artist Artyom Loskutov for causing religious offence by selling T-shirts in support of the Pussy Riot punk band.
Loskutov is known for his vocal support of Pussy Riot. In March, images styled like icons and featuring figures in Pussy Riot-esque balaclavas appeared on advertising boards on the streets of Novosibirsk. One poster showed a haloed mother and child, with the woman wearing a Pussy Riot type stocking-mask. Law enforcement authorities believe that Loskutov was responsible for these images.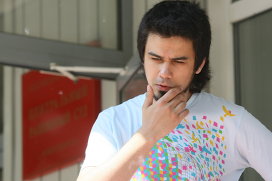 © RIA Novosti, Alexander Kryazhev
Artyom Loskutov
Loskutov has stated on his website that he was "exchanging" - as opposed to selling - T-shirts in support of Pussy Riot for 800 rubles ($25.7), and the money was going to be donated to the group. He believes this was not in violation of the law.
Police officers posed as buyers and bought two T-shirts from him. Upon payment, they produced their badges and then filed a report regarding the violation.
Loskutov was charged with unlawful business activity, which is punishable by a fine from 500 to 2,000 rubles ($16-$64.3). The authorities also found him guilty of trading in a place that has not been designated for that purpose.
"Yesterday I was called to the prosecutor's office and today I was handed rulings on the initiation of two cases for each T-shirt. The cases are being submitted to the courts," Loskutov told RIA Novosti on Tuesday. The hearing date has yet to be set.
Loskutov may be fined 500 ($16)-1,000 ($32.13) rubles under the article for "causing religious offence."
Novosibirsk Deputy Prosecutor Nikolai Zemerov told RIA Novosti that this information was correct.
In late February, five young women wearing brightly colored balaclavas performed a "punk-style" prayer at the altar of Moscow's Christ the Savior Cathedral. An edited video of their performance was posted on the Internet and caused a public outcry.
The Khamovnichesky District Court sentenced three Pussy Riot members to two years in prison on August 17.
Later, the Moscow City Court commuted fellow Pussy Riot member Yekaterina Samutsevich's sentence from two years in prison to immediate release on probation due to the fact that she was detained by security prior to reaching the stage, and thus did not actually participate in the punk rock prayer.
The judge left Maria Alyokhina and Nadezhda Tolokonnikova's sentences unchanged.