Violating migration laws may lead to three-year ban on entering Russia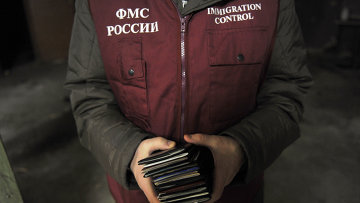 12:37 12/10/2012
BISHKEK, October 12 - RAPSI. Head of the Federal Migration Service Konstantin Romodanovsky has proposed the imposition of a three-year ban on entering Russia for those found guilty of breaking migration laws.
Heads of the CIS migration authorities discussed the problems of illegal migration and the migration situation in the CIS on Thursday, in Bishkek. The meeting was chaired by Romodanovsky.
"The Russian migration system has been operating efficiently since 2008. It registers every foreign national and identifies all those who violate the migration rules. If we adopt this procedure and the law comes into effect, those individuals will be denied access to Russia for three years from their departure," Romodanovsky said.
He added that these measures would be applied to those who overstay their term in Russia and fail to produce documentary evidence justifying this.
He has also expressed hope that Russia will soon adopt Russian language testing for migrants.