Pussy Riot abstained in Siberian artist's case against law firm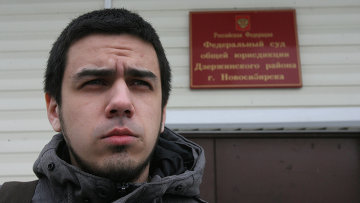 15:34 08/10/2012
NOVOSIBIRSK, October 8 - RAPSI. Novosibirsk's Kalininsky District Court will not join the convicted Pussy Riot members as a third party in its hearing of artist Artyom Loskutov's complaint against the lawyers who sought compensation from the band, he told RIA Novosti on Monday.
On February 21, five young women wearing brightly colored balaclavas stood at the altar of Moscow's Christ the Savior Cathedral to perform a protest song titled, "Holy Sh*t." Shortly thereafter, an edited video of the performance that was uploaded onto the Internet incited a public outcry.
Pussy Riot members Nadezhda Tolokonnikova, Maria Alyokhina and Yekaterina Samutsevich were convicted for disorderly conduct and sentenced to two years in prison on August 17.
Loskutov, who stood up for the accused women, sued the Novosibirsk law firm Ryabinina, Zinovyev and Krestyanov in mid-August.
In early August, the law firm filed suit with the Kuntsevsky District Court on behalf of three local residents, who together sought 90,000 rubles ($2,835) in moral damages for harm allegedly inflicted upon them by the band's performance at the cathedral.
"I think they are crossing the line," Loskutov said. He added that the defendants filed the lawsuits to make money off of other people's misery and to gain publicity. While commenting to the media, he said they are inciting hatred and animosity toward Pussy Riot.
Loskutov seeks 30 kopecks ($0.01) from each lawyer involved.
"Of course, it would be great to recover 30 pieces of silver from each of them, but we don't have such currency," Loskutov said, recalling the 30 pieces of silver Judas took to betray Jesus in the Bible story.
A representative of the Russian Orthodox Church was earlier said to be involved as a third party in the case.
The court began to hear Loskutov's complaint on Monday. The defendants wanted Pussy Riot to be joined as a third party in order to provide explanations and evidence allegedly necessary for their case.
The court has denied the artist's motion and will hold the next hearing on October 31.
In March, images stylistically reminiscent of Orthodox religious icons appeared on light boxes. The icon-esque images were made in support of the arrested Pussy Riot band members. One poster showed a haloed mother and child, with the woman wearing a Pussy Riot-style balaclava. Law enforcement authorities identified Loskutov as the suspected artist.
Three administrative cases based on offenses against religion were initiated against Loskutov.
The magistrate's court acquitted him on one count due to a lack of evidence.
Of the two remaining counts, Loskutov was found guilty and fined 1,000 rubles ($31.36).