Setting national legal precedent, Chechen court bans 'Innocence of Muslims'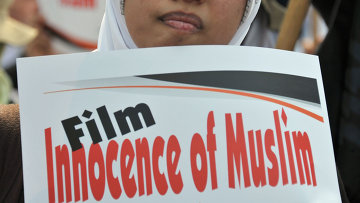 14:58 28/09/2012
PYATIGORSK, September 28 - RAPSI. The Leninsky District Court in Grozny has recognized the film "Innocence of Muslims" as extremist, Murat Tagiyev, Chechen Ethnic Policy, Press and Information Minister,told journalists Friday.
By law, a decision by any Russian court to classify a given item as extremist sets a nationwide precedent. At the same time, however, other courts in the country can also engage in similar prosecutions and render their own decisions. Thus the Chechen court's decision is not formally binding. If discrepancies arise in local or regional court decisions, the Supreme Court will issue a formal binding order on the matter.
Mobile service providers in the North Caucasus restricted access to YouTube and the US amateur film about the Prophet Muhammad. Earlier, some providers in Dagestan and Chechnya restricted access to websites hosting the film. The Tverskoy District Court in Moscow will hear the prosecutors' application to declare the film extremist on October 1. The communications authority called on providers to block their clients' access to the film even before the court has resolved the matter.
"The film depicts the life of the Prophet Muhammad and his associates in a twisted and insulting form. In this regard, we have lodged a complaint with the Leninsky District Court to have the film deemed extremist, as inciting interreligious and interethnic strife. The complaint was upheld," Tagiyev said.
Mass protests have broken out in Egypt, Libya, Tunisia, and Sudan, as well as in other predominantly Muslim countries over the film. U.S. Ambassador to Libya Christopher Stevens was killed along with three colleagues when rioters attacked the U.S. Consulate in Benghazi on September 11.The trailer of the 14-minute U.S.-made film was released last week on YouTube and portrays Islam and the Prophet Muhammad in a negative light.
The United States is strengthening the security of its diplomatic staff in countries where they may be subject to attack, while a number of Eastern countries have blocked access to the film. At the same time, Google has rejected requests to remove clips of the film from its video-hosting sections.