Sakharov Prize nomination for Pussy Riot interferes with judiciary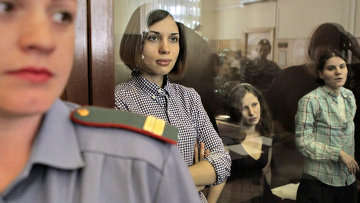 17:45 25/09/2012
MOSCOW, September 25 - RAPSI. The Members of European Parliament (MEPs) who plan to nominate Pussy Riot for the Sakharov Prize for Freedom of Thought are trying to interfere with Russia's judicial system, Foreign Ministry spokesperson Konstantin Dolgov said on Tuesday.
"We proceed from the fact that the decisions of independent judicial bodies, including Russia's, must be respected," he said.
Dolgov stressed that Moscow hopes the European Union will respect the memory of Andrei Sakharov, as well as the millions of Orthodox believers whose rights and feelings were infringed upon due to Pussy Riot's punk prayer.
On February 21, 2012, the five young women wearing brightly colored balaclavas stood at the altar of Moscow's Christ the Savior Cathedral and performed a protest song entitled, "Holy Sh*t." Shortly thereafter, an edited video of the performance that was uploaded to the Internet incited a public outcry.
Pussy Riot members Nadezhda Tolokonnikova, Maria Alyokhina and Yekaterina Samutsevich were convicted of disorderly conduct and sentenced on August 17 to two years in prison.
Pussy Riot was nominated for the award by German MEP Werner Schulz, who represents the Group of the Greens/European Free Alliance, and is a vice chair of the delegation to the EU-Russia Parliamentary Cooperation Committee.
The Sakharov Prize for Freedom of Thought is awarded to individuals and organizations that have made a special contribution to the protection of human rights.
The nominees are proposed by European parliamentary factions or groups of MEPs. They must gather no fewer than 40 signatures to support their candidate. Nelson Mandela and Soviet dissident Anatoly Marchenko, who died in a Soviet prison in 1988, were the first to win the prize. In 2011, a group of Arab Spring activists won. Winners receive a 50,000 Euro monetary award.