Tymoshenko may have difficulty proving her case in Strasburg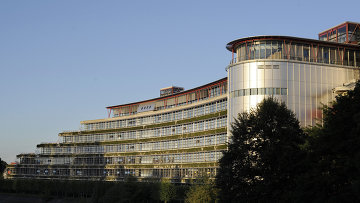 10:35 03/09/2012
KIEV, September 3 - RAPSI. Former Ukrainian Prime Minister Yulia Tymoshenko's legal team will find it difficult to prove that Tymoshenko's arrest in August 2011 and her allegedly improper detention conditions were politically motivated when her case is brought before the European Court of Human Rights, Ukrainian ECHR commissioner, Nazar Kulchitsky said in an interview with Ukrainian "Fifth Channel" on Sunday.
Last Tuesday the court held a hearing on Tymoshenko's case regarding her arrest and over four months of custody in a pretrial isolation ward in 2011. Attorneys maintain that the time spent at Lukyanovskaya jail has resulted in health consequences for the former prime minister. The authorities deny any violation of her rights while she was in custody.
Kulchitsky admitted that even if the ECHR sides with Tymoshenko, Kiev will not automatically release her.
In October 2011, Tymoshenko was sentenced to seven years in prison for abuse of power due to her signing gas supply contracts with Russia in 2009. She is serving her sentence in the Kharkiv women's prison. She has been receiving treatment at a Kharkiv hospital since May 2012 after being diagnosed with a spinal disc herniation.
Tymoshenko will file an appeal with the European Court of Human Rights against the Ukrainian High Specialized Court on Civil and Criminal Cases' decision to leave her sentence unchanged on charges of having made illegal gas deals while serving as prime minister, said her attorney Sergei Vlasenko.
In late March, a second case bringing further charges against Tymoshenko was filed with Kharkiv's Kievsky District Court. The case deals with her activity at United Energy Systems. She is being accused of misappropriation of funds.
This verdict has aggravated Ukraine's relations with the EU. The West has called the sentence politically motivated, while the Ukrainian government has flatly denied the allegation.
Last December, an appeals court upheld Tymoshenkos sentence and transferred the former prime minister to a Kharkiv prison. Her defense team appealed to the Supreme Specialized Court for Considering Criminal and Civil Cases in February. The court was made the final instance after judicial reforms in 2010. Its decisions are not subject to further appeal.