Hunger striking politician's appeal to annul mayoral elections dismissed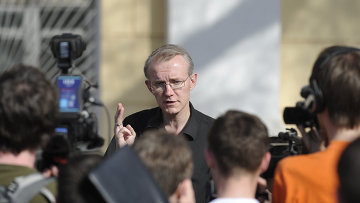 13:24 30/08/2012
ASTRAKHAN, August 30 - RAPSI. The Astrakhan Regional Court dismissed Wednesday an appeal of a lower court's ruling not to annul the city's mayoral elections which had been brought by Oleg Shein, leader of Astrakhan's A Just Russia branch who made international headlines last Spring for a 40-day hunger strike.
"No reasons have been given for the dismissal. We will be granted the explanation within two weeks," Shein told RIA Novosti.
He said that the ruling has cleared the way for him to submit an application to the European Court of Human Rights (ECHR), although he will first wait for the judgment of the court of appeals over another three complaints (which will be handed down September 5), since the lawsuits were initially considered in four different districts of Astrakhan.
In March 2012, Shein lost the elections to United Russia candidate Mikhail Stolyarov.
However, Shein disagreed with the election results, claiming that the vote counting procedure had been violated, and went on hunger strike together with his supporters for 40 days. He then sued the city's election committee in April, seeking to invalidate the election results.
Two months later, the court held against his lawsuit and advised him to file lawsuits against the local election committees in the city's four district courts.
Shein followed this advice and all four courts subsequently dismissed his claims.