Appeal of YUKOS suspect's property seizure case to be heard in September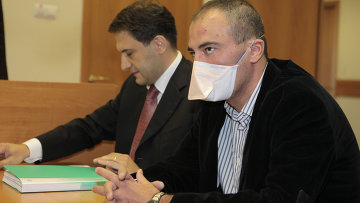 17:23 27/08/2012
MOSCOW, August 27 - RAPSI. The Moscow City Court has rescheduled for September 1 its hearing of an appeal of the decision to lift the seizure of late YUKOS embezzlement case suspect Vasily Aleksanyan's property, the court told the Russian Legal Information Agency (RAPSI/rapsinews.com) on Monday.
The prosecutor's office is pressing for a reversal of the Simonovsky District Court's decision to lift the seizure of Aleksanyan's house and car upon his relatives' request.
The property was seized as part of an embezzlement case against Alexanyan. The case was later dismissed as the statute of limitations had expired. The measure of restraint was canceled and the deposit was returned.
Attorney Gevorg Dangyan, who represents Aleksanyan's relatives, said the request contains the "same arguments" that were presented earlier.
Aleksanyan died on October 3, 2011 at the age of 39. He was arrested in 2006 together with other top YUKOS managers on charges of stealing property from Tomskneft and shares in refineries and oil producing companies owned by the Eastern Oil Company.
Aleksanyan spent nearly 2.5 years in prison. His lawyers asked for his pretrial conditions to be reconsidered due to his poor health, but instead his custodial sentence was extended.
On February 8, 2008, the former top manager was moved from the pretrial detention center to an outside oncology ward. In summer 2010, the court terminated the case proceedings as the statute of limitations had expired. He was never convicted or acquitted.
The YUKOS case has been one of the most high profile in Russia over recent years. In the early 2000s, the authorities accused YUKOS executives Mikhail Khodorkovsky and Platon Lebedev of economic crimes. YUKOS, then the country's largest oil company, went bankrupt and its assets were taken over by Rosneft. Many in the West believe the case was politically driven, although Moscow denies the charges.
In 2005, Khodorkovsky and Lebedev were sentenced to eight years in prison for fraud and tax evasion.
In late 2010, a Moscow district court sentenced them to 14 years in prison for oil theft and money laundering. They were expected to be released in 2017, considering the time they had already served for their previous convictions from their first trial. However, the Moscow City Court reduced their sentences by one year on May 24.