Swedish teddy bear dissent organizers refuse to stand questioning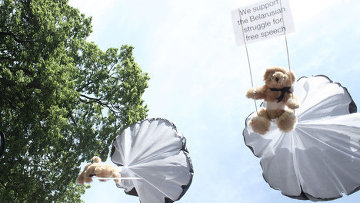 12:30 15/08/2012
MOSCOW, August 15 - RAPSI. The Swedish pilots who illegally flew into Belarussian airspace in order to drop teddy bears in protest of the country's human rights record say they will not go to Minsk to be questioned, according to an open letter distributed on the Internet Tuesday. The Swedish citizens expressed concern about their freedom.
They recalled in their open letter that they had proposed a similar meeting at the Swedish Embassy in Minsk, but that the diplomatic mission had since been closed.
Relations between Minsk and Stockholm were strained after teddy bears with mottos in support of freedom of speech had been thrown out of a Swedish plane illegally crossing Belarusian airspace in early June.
After this incident the Belarusian Foreign Ministry decided not to extend the accreditation of Swedish ambassador Stefan Ericsson, which Stockholm considered an expulsion. In response Sweden expelled the Belarusian ambassador who was posted in Sweden. After this, Belarus recalled its embassy in Stockholm and proposed that Sweden do the same.
The State Security Agency of the Republic of Belarus initiated a criminal case for the illegal border crossing. Photographer Anton Suryapin and real estate agent Sergei Bashamirov were detained under suspicion of aiding and abetting the crime. The security agency issued a summons to the Swedish pilots who organized the "descent" to testify on their own behalf in Minsk as suspects. Per Cromwell, Thomas Mazetti and Hanne-Lena Frey received the summons.