Woman files suit after crash with Medvedev's motorcade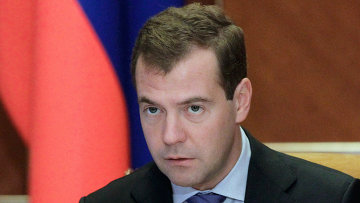 12:05 10/08/2012
PETROPAVLOVSK-KAMCHATSKY, August 10 - RAPSI. Petropavlovsk-Kamchatsky resident Olga Kuklina, whose car was damaged on July 4 after a collision with a car in Dmitry Medvedev's motorcade, has filed a lawsuit demanding moral damages, Kuklina's attorney Elena Komleva, told RIA Novosti.
Reports indicate the woman pulled over to the curb when she saw the prime minister's motorcade, but that one of the cars suddenly changed direction, hitting Kuklina's car and then ending up in a ditch.
The prime minister's press secretary Natalya Timakova said that the car's tire burst, which resulted in the crash. The driver of the car was found to be at fault for the crash.
Timakova said that the motorcade stopped at once and that doctors examined everyone, including the victim and her child. She added that all insurance costs were paid after the accident, and that the victim could also seek compensation through the courts. On Wednesday Kuklina filed a lawsuit for 230,000 rubles ($7,258) in moral damages, over and above the already paid 120,000 rubles ($3,787) in insurance payments.
"We submitted the second lawsuit for moral harm, which is quite substantial, according to our estimates. We believe that the court will hold the defendant liable, but based on legal precedent, I believe the amount will be substantially reduced," Komleva said.
She did not specify the amount of the claim only saying that it includes expenses for a neurologist who treats Kuklinas daughter, who was in the car during the incident.