Arrest hearings for May public unrest suspects moved to July 11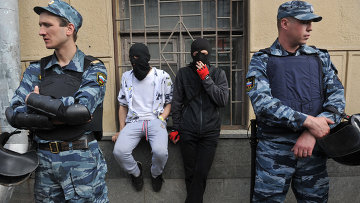 15:28 10/07/2012
MOSCOW, July 10 - RAPSI. The Moscow City Court will hear on July 11 the appeal against the extension of Denis Lutskevich, Vladimir Akimenkov, Oleg Arkhipenkov, Artyom Savelov and Alexander Kamensky's arrest in the Bolotnaya Square riots case, the court told the Russian Legal Information Agency on Tuesday.
The Basmanny District Court's decision extended the arrest of the defendants, but the defense did not agree with the decision.
Clashes with the police flared up on May 6 during an opposition march across Moscow, which had been granted official permission.
Tens of protesters and police officers were injured. The police detained over 400 rally participants. The court has so far placed 13 individuals in custody for taking part in the riots. Several people have been charged with calls for mass unrest.