Euro 2012: over 20 Russian fans detained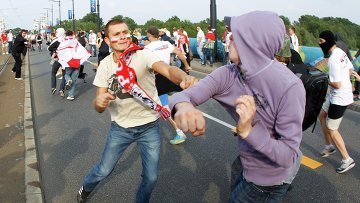 14:14 13/06/2012
MOSCOW/WARSAW, June 13 - RAPSI. The Polish police detained over 20 Russian football fans involved in public disorder in Warsaw, following the Tuesday match between the Russian and Polish national teams at the European football championships, Polish police headquarters' press secretary Mariusz Sokolowski told RIA Novosti.
Russian fans held an authorized march on the match day in Warsaw. Nearly 2,000 fans took part, according to police estimates. As they approached the stadium, the Russian fans were attacked by Polish hooligans. Police had to use force in order to disperse the assaulters, while the Polish fans threw stones, flares and metal rods at the police.
The police detained a total of 183 fans including 24 Russians. All detainees are facing court proceedings for their offences, Sokolowski said.