Psychiatric examination finds ex-MMA fighter mentally sane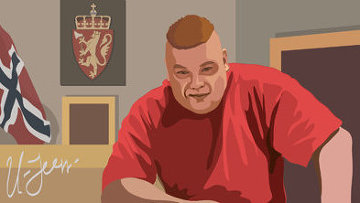 13:19 28/05/2012
ST. PETERSBURG, My 28 - RAPSI. Infamous former MMA fighter and ultranationalist activist Vyacheslav Datsik has undergone a repeat psychiatric examination which has found that he was mentally sane when he committed his crimes.
As a professional fighter, Datsik was widely known as "Red Tarzan." He has been charged with robbery and church arson, offenses punishable by up to 10 years in prison.
Datsik was arrested in Russia in 2007 and accused of robbing cell phones shops in St. Petersburg. Russian psychiatrists declared that he was schizophrenic, absolving him of criminal liability for the robberies. He then later escaped from the mental institution where he was being treated.
In September, Datsik was detained with a loaded handgun while seeking asylum in an Oslo immigration office. In late December, a Norwegian court sentenced him to eight months in jail for illegal possession of a weapon.
He was then deported to Russia for prosecution.
Datsik is reported to be a member of the Slavic Union ultranationalist movement, which is banned in Russia but reportedly has an office in Norway.