Moscow resident's lawsuit to recover $25,420 from McDonald's submitted to court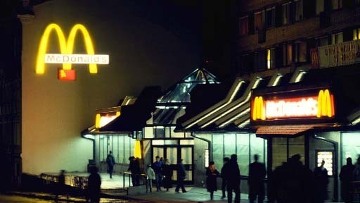 15:30 24/05/2012
MOSCOW, May 24 - RAPSI. The Presnensky District Court submitted to the Lefortovo District Court Moscow resident Valentina Tedeyeva's lawsuit to recover $25,240 from Moskva-McDonald's, the court's press secretary told the Russian Legal Information Agency (RAPSI/rapsinews.com) on Thursday.
The plaintiff said the flagstone fell on her leg in May 2011 in the outdoors section of a McDonald's. The base was part of a garden at the restaurant, the press secretary said.
The lawsuit reads that Tedeyeva refused to be hospitalized, but her leg was later revealed to be broken.
Eventually, the plaintiff was unable to work for a significant period of time and lost some of her wages - 32,000 rubles ($1,010), which she seeks to recover from the defendant.
The plaintiff also insists on compensation for moral harm, which she assesses at 800,000 rubles ($25,240).
RAPSI has yet to obtain comments from McDonald's on the lawsuit.