Russian Railways gets $4.3 mln over train bombing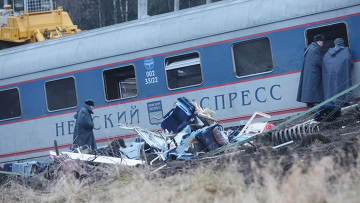 15:26 22/05/2012
TVER, May 22 - RIA Novosti. The Tver Regional Court has satisfied Russian Railways' civil lawsuit against four convicts for $4.3 million in damages after the Nevsky Express train bombing in fall 2009.
The Moscow-St. Petersburg train crashed after a bomb exploded on the border of the Tver and Novgorod regions on November 28, 2009. The blast killed 28 people and over 90 were injured.
The carrier was awarded 134 million rubles ($4.3 million), as opposed to the 148 million rubles ($4.75 million) initially sought.
The amount will be paid by Zelemkhan Aushev and Beslan, Murad and Tatarkhan Kartoyev, who have been sentenced to life in prison.
The court has also collected from the convicts 8 million rubles ($257,000) for the victims. However, part of the lawsuits have been dismissed and the court has advised the claimants to seek recompense in a civil procedure.
On Tuesday, the court gave seven-year to life sentences to 10 defendants accused of bombing the train. They were found guilty of terrorism, murder and illegal arms trafficking.