Activists ask Prosecutor General to identify officers concealing badges at rallies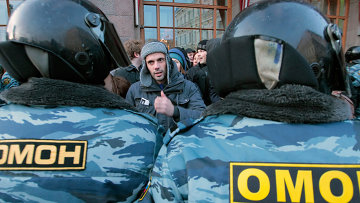 15:38 21/05/2012
MOSCOW, May 21 - RAPSI. Human rights activists asked Prosecutor General Yuri Chaika and Deputy Interior Minister Sergei Gerasimov on Monday to name the police officers who concealed their badges during the May 6 and 7 protest rallies, thus violating police law, Agora Association Information Department head Dmitry Kolbasin told the Russian Legal Information Agency.
"We request an inspection and the punishment of the police chiefs behind this offense," he said.
Earlier, information that the police were hiding their badges during protests was leaked to the media. Agora's probe into the matter reaffirmed the reports.
In February, Gerasivov told journalists at the presentation of the new police uniform that officers concealing their badges would be seriously disciplined and possibly discharged from service.