Major shipyard's appeal in $95 mln dispute to be heard on June 14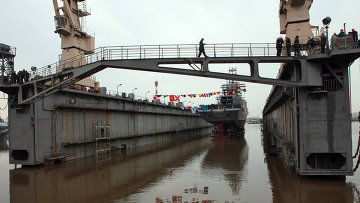 11:40 17/05/2012
MOSCOW, May 17 - RAPSI. The Ninth Commercial Court of Appeals will hear on June 14 the Severnaya Verf shipyard's appeal against dismissing its lawsuit against Alfa-Bank to recover $95 million in damages, the court told the Russian Legal Information Agency (RAPSI/rapsinews.com).
The shipyard had lodged two claims: one against Alfa-Bank, claiming 2.94 billion rubles ($95 million) and the other against VTB bank, claiming 1.47 billion rubles ($47.5 million). Severnaya Verf also requested that the banks should issue loans to the shipyard, according to the governmental resolution of September 8, 2011.
The Moscow Commercial Court held against both lawsuits on March 1. The shipyard challenged both decisions. Its appeal involving VTB will be handled on June 4.
Under the resolution, the three lenders - Alfa-Bank, VTB and Sberbank - were obligated to provide loans of up to 22 billion rubles ($710 million) in 2011 to enable the shipyard to carry out a defense order.
The government guaranteed these loans of $427.32 million from Alfa-Bank and $97.21 million from VTB.
The plaintiff said the contracts were concluded so the banks are obligated to issue the loans and compensate for the losses incurred by the shipyard due to its overdue payments to contractors.
Meanwhile, Alfa-Bank maintains that the loan agreement had not been finalised and the correspondence produced by the plaintiff in court were signed by persons who lacked sufficient authority. Only the chairman of the board is authorized to sign documents on issuing loans. The documents the shipyard presented, however, are nothing more than correspondence between the two parties, said the bank.
Severnaya Verf is part of the United Industrial Corporation (UIC) owned by former Senator Sergei Pugachyov. Along with other shipbuilding assets, UIC was pledged almost 32 billion rubles in loans issued to Mezhprombank, which later went bankrupt.