Moscow Domodedovo airport's facilities searched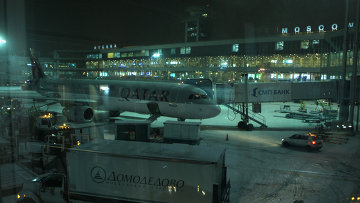 10:18 17/05/2012
MOSCOW, May 17 - RAPSI. On Wednesday, law enforcement officers searched three Domodedovo airport facilities as part of an investigation into cases over unlawful eavesdropping and fraud, the Kommersant daily reports on Thursday.
The authorities have been watching Domodedovo closely after last year's terrorist attack: a suicide bomber detonated an explosive in the airport in January 2011, killing 37 and injuring over 100.
The attack has put the airport security system into question. A search then revealed a bug planted in a top-manager's office. This led to the opening of a criminal case, which was shelved until recently.
In addition, the investigation into the airport's security found that employees responsible for contracts between airlines and Domodedovo companies are engaged in fraudulent practices involving fuel worth over 224 million rubles ($7.2 million).
The authorities declared the case of the terrorist attack closed in late April.
Domodedovo Airport is one of the least transparent companies in Russia. At the time of the airport's IPO which was cancelled last year, Domodedovo chairman of the board Dmitry Kamenschik owned a 100 percent stake in DME Limited, the airport's holding company. However, he later refused to name the other shareholders, reportedly due to concerns over raider attacks on the airport.