Activist appeals fine for gay propaganda in St. Petersburg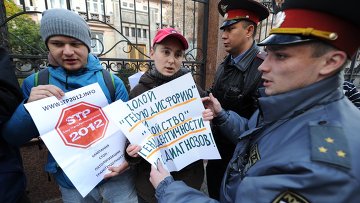 17:02 14/05/2012
ST. PETERSBURG, May 14 - RAPSI. Gender rights organization founder Nikolai Alekseyev has filed an appeal against a magistrate court's decision fining him $165 for promoting homosexuality among under-aged individuals, Alekseyev told RIA Novosti on Monday.
Alekseyev was detained on April 12 at the entrance to the St. Petersburg city administration for carrying a poster reading "Homosexuality is not a perversion, grass hockey and ice ballet are perversions."
The phrase is an amended version of a quote made by famous Soviet actress Faina Ranevskaya.
On May 5, the court ruled that Alekseyev promoted homosexuality among the under-aged.
He is the first individual to be fined him for the crime since city lawmakers adopted the law prohibiting gay propaganda on March 30.
The legislation sparked an outcry and protests in Russia and abroad. The U.S. State Department has also expressed its concern over the law.