Investigators request arrest extension for martial arts fighter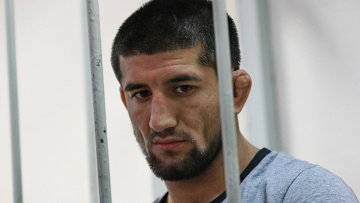 11:59 12/05/2012
MOSCOW, May 12 - RAPSI, Anna Shubina. Investigators have requested to extend the arrest of MMA fighter Rasul Mirzayev until July, a representative of Ivan Agafonov's relatives told the Russian Legal Information Agency (RAPSI/rapsinews.com).
Mirzayev was charged with the death of 19-year-old student Ivan Agafonov.
The defense attorney added that by this time the medical appraisal undertaken by Burdenko research institute can be submitted to the court. The expert opinion is expected to reveal the cause of Agafonov's death and enable the court to judge Murzayev's conduct.
The investigation maintains that Mirzayev punched Agafonov outside a nightclub in Moscow on August 13. Agafonov was taken to a hospital, where he died several days later without regaining consciousness. Mirzayev's counsel insisted on changing the charge to reckless homicide as Agafonov allegedly died after falling on the pavement, rather than from Mirzayev's punch.
The case was originally opened over charges of grave injury leading to death, but later changed to involuntary homicide, which is punishable by up to two years in prison.
According to the Investigative Committee, after the case was remanded to the prosecutors office, the investigators returned to the initial charge.