Appeal against arrest of Pussy Riot members to be heard on May 11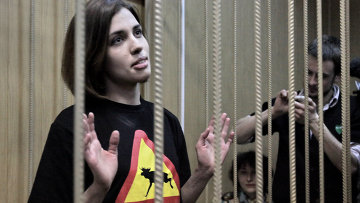 12:46 03/05/2012
MOSCOW, May 3 - RAPSI. The Moscow City Court's judicial board on criminal cases set May 11 for the hearing of the appeal against the extension of Pussy Riot band members arrest on charges of hooliganism in Moscow's Christ the Savior Cathedral, says attorney Mark Feygin on his Twitter.
On February 21, five masked members of Pussy Riot punk-group performed a protest song named "Holy Sh*t" at the cathedral's altar.
The song included lyrics such as "Holy Mother, Blessed Virgin, chase Putin out!" Pussy Riot allege the performance was a response to Orthodox Church head Patriarch Kirill's backing of President-elect Vladimir Putin in the run-up to his March 4 election landslide. The patriarch called the 12 years of Putin's rule a "miracle of God" in a televised meeting.
The video of their performance was posted on the Internet and incited a major public uproar.
Three alleged members of the rally have been placed under arrest, charged with hooliganism. They face up to seven years in prison. The court ruled that Nadezhda Tolokonnikova, Maria Alyukhina and Yekaterina Samutsevich should remain in custody until June 24.