American foster mother sues Russian children's ombudsman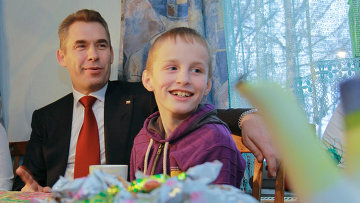 15:25 12/04/2012
MOSCOW, April 12 - RAPSI. U.S. citizen Torry Ann Hansen has filed a lawsuit in the Tverskoy District Court of Moscow against Presidential Commissioner for Children's Rights Pavel Astakhov.
Earlier, Hansen sent her foster son Artyom Savelyev back to Russia with a note stating that she refused to keep him in her care as he suffered from psychological problems.
"The matter of the lawsuit is that Astakhov refers to Hansen as the foster mother, whereas she wants to be called the former foster mother," Astakhov said.
It was earlier reported that Hansen had submitted a lawsuit against the Rossiyskaya Gazeta newspaper, believing that the paper published groundless and defamatory information.
Hansen wants the paper to retract the information and pay compensation for moral harm amounting to several thousand rubles.
Savelyev arrived from Washington to Moscow on April 8, 2010, with a note stating that Hansen no longer wanted to mother him because he had mental problems. The boy had only spent half a year with her family. Previously, he lived in the Maritime Territory with his mother. When she was deprived of her parental rights, he spent several years in a children's home.
Astakhov has commented on the situation on many occasions.
He said Savelyev refuses to discuss his stay in the United States.
"It is clear even now that the child underwent a great deal of stress due to his foster mother and she must be held accountable," Astakhov said.
The World Association for Children and Parents has filed a lawsuit against Hansen, seeking to oblige her to pay 27 percent of her nurse's salary to her abandoned son until he reaches legal age.
Artyom is nine years old now. He currently lives in the Moscow region in a large family along with five other children.