Crashed pilots' relatives action against Aviation Comittee turned down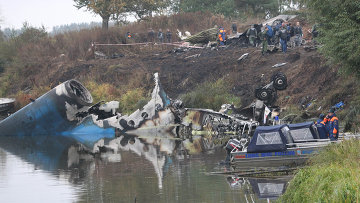 17:08 17/02/2012
MOSCOW, February 17 - RAPSI. The Zamoskvoretsky District Court of Moscow has rejected the lawsuit lodged by the relatives of the two Yak-42 pilots who died in the air crash killing the Lokomotiv ice hockey team, their lawyer Igor Trunov told the Russian Legal Information Agency (RAPSI/rapsinews.com).
The relatives challenged the IAC's conclusions made after its investigation into the crash.
"Today, we received a decision signed by the judge indicating the reasons for the rejection. Specifically, the motivation is that the IAC acts on behalf of signatories to an interstate treaty and the court lacks jurisdiction over conclusions because the IAC enjoys diplomatic immunity," the lawyer said.
According to Trunov, the IAC has a ministerial status in Russia and is also a business entity providing services.
Its conclusions are being contested for the first time ever, he observed.
A Yak-42 carrying the Lokomotiv ice hockey team crashed 2.5 kilometers off the Yaroslavl airport on September 7. Only one crew member survived out of the 45 people on board.
The committee published its conclusions on the crash in November. It noted the pilots' mistakes while breaking the airplane as the main cause of the crash. It also said the air company's organization and financing structure did not let it provide for full flight safety.
The appeal alleges that the investigators were not sufficiently skilled and the IAC arrived at the wrong conclusions.