Stalin's grandson sues Federal Security Service general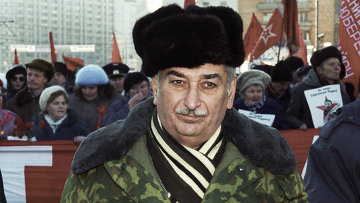 12:42 17/02/2012
MOSCOW, February 17 - RAPSI, Diana Gutsul. A court has accepted Yevgeny Dzhugashvili's lawsuit against head of the Federal Security Service Registration and Archives Department Lt. Gen. Vasily Khristoforov to obtain refutation of a statement about his grandfather Joseph Stalin's complicity in the Polish officers execution in Katyn, Dzhugashvili's representative told the Russian Legal Information Agency (RAPSI/rapsinews.com) on Friday.
According to the statement of claims, Khristoforov "stated in public" at a November conference at the WWII museum that Stalin was involved in the Katyn execution.
In the plaintiff's opinion the information that the execution in Katyn and other POW camps was Stalin's crime and it was Stalin who ordered the killing of Polish nationals in the camps and prisons of West Ukraine and Belarus is not true. Dzhugashvili holds that statements by Khristoforov degrade his grandfather's dignity.
The pretrial hearing has been scheduled for March 15.
A Moscow district court dismissed earlier this week Dzhugashvili's another defamation lawsuit against MPs to refute statements made about his grandfather Joseph Stalin's involvement in the execution of Polish officers.
The Soviet authorities denied their involvement in the mass killing of Polish POWs and civilians for several decades.
A Soviet commission headed by academician Nikolai Burdenko accused Nazis of the massacre in 1944, however, in spring 1990, the TASS news agency called the "Katyn case" a gravest crime of Stalinism.
The Katyn issue deteriorated Russian-Polish relation for many years.