Defense of Khodorkovsky's business partner says court drags on appeal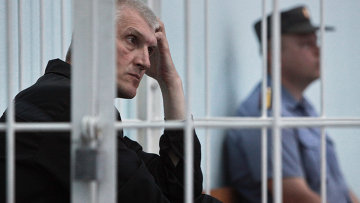 11:49 17/02/2012
MOSCOW, February 17 - RAPSI. The defense of former Menatep head Platon Lebedev, who was sentenced to eight years in prison for oil theft and money laundering, said the court deliberately drags on considering his appeal against the parole procedure, Mikhail Khodorkovsky press-center reported on Thursday.
The appeal was filed on November 23, 2011, Konstantin Riviki, Lebedev's attorney said earlier.
"The law establishes that the preliminary consideration of the application must be finished within two months after its registration. Much more time has passed," said Lebedev's other attorney Vladimir Krasnov, adding that it is obvious that the law was violated.
RAPSI/rapsinews.com has yet to obtain comments from the Constitutional Court, where the appeal was filed.
In his appeal to the Constitutional Court, Lebedev requires to recognize parole legislation non-constitutional since according to the Criminal Correctional Code the convict may be granted a parole only if he repented his crime and repaid the damage..
Lebedev reminded that he continues to dispute the sentence since he does not agree with the court conclusions that his actions qualify for the crime and he thinks it is illegal to repent the crime just for the sake of parole.
The YUKOS case has been one of the most high profile in Russia in recent years. In the early 2000s, the authorities accused the executives of YUKOS, then the country's largest oil company, of economic crimes. YUKOS then went bankrupt while its assets were transferred to Rosneft. Many in the West believe the case was politically driven, but Moscow denies the charges.
In 2005, Khodorkovsky and Lebedev were sentenced to eight years in prison for fraud and tax evasion. In late 2010, a Moscow district court sentenced them to 14 years in prison for oil theft and money laundering. They were expected to be released in 2017, taking into account the time they had already served for their convictions from their first trial in 2005. However, on May 24, the Moscow City Court reduced their sentences by one year. They now may be released in 2016.