$66.8 mln award for KD Avia airline from construction company upheld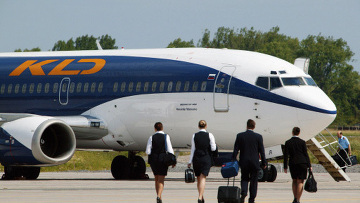 16:17 16/02/2012
MOSCOW, February 16 - RAPSI. The Ninth Commercial Appeals Court upheld on Thursday the $66.8 million award for the KD Avia airline from the GS Corporation, the court told the Russian Legal Information Agency (RAPSI/rapsinews.com).
The court has dismissed the company's appeal against the trial court's judgment.
In 2004, KD Avia and the GS Corporation entered into a contract whereby the GS Corporation was to construct terminals at a Kaliningrad airport. KD Avia paid for the work, but later argued that the contract was invalid because it was incomplete, as neither the subject nor the contract terms had been agreed upon. KD Avia sought to recover from the defendant unjust enrichment for a period beginning February 2007. It filed suit with the commercial court in September 20.
KD Avia initially sought to recover 2.5 billion rubles ($78 million). However, the Moscow Commercial Court awarded it 1.658 billion rubles ($52.3 million) on November 15 as the principal sum - the difference between the advances that it received and the work it actually carried out - and 415.9 million rubles ($13.1 million) in interest. The court also declared the contract invalid as it missed several critical terms, such as the completion deadline.
KD Avia filed for bankruptcy with the Kaliningrad Regional Commercial Court in September 2009. According to the application, its liabilities totaled over 11.7 billion rubles ($365.4 million). The airline has been under administration since October 2009. The court declared KD Avia bankrupt on November 11, 2010.
KD Avia executives were under arrest at the Kaliningrad pretrial detention center on charges of fraudulent bankruptcy and abuse of power from December 2009 to April 2010. They are now at large, but the criminal case has not been closed.