Travel agency to pay $3.27 mln to Transaero airlines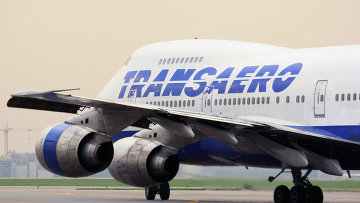 11:24 02/02/2012
MOSCOW, February 2 - RAPSI. Court upheld the decision to recover $3.27 million in debt from the Fourthtour travel agency in favor of the Transaero airlines, the court told the Russian Legal Information Agency (RAPSI/rapsinews.com) on Thursday.
Transaero was established on December 28, 1990, by Alexander Pleshakov as the first Russian private airline. Its hub is the Domodedovo airport in Moscow.
Fourthtour appealed the Ninth Commercial Appellate Court's November 18 decision to recover the debt. On September 2, 2011, the Moscow Commercial Court satisfied the airline's 98.6 million rubles ($3.27 million) claim against the travel agency.
Transaero reported in March that it would no longer work with Fourthtour due to the travel agency's debt. It also said it would sue Fourthtour for debts.
The airline notified Fourthtour of breaking their relationship on March 1, which, the airline maintains, was necessitated by the travel agency's ever-increasing debt and misleading it about debt payments.
Fourthtour began to accrue its debt since autumn of 2010. As of February 2011, the debt exceeded $3.3 million, of which only $572,000 was covered by the bank guarantee, the company reported.
Transaero gave the travel agency a chance to improve the situation, the airline said. But the airline started receiving in February fake payment orders. Under some of them, the money was never transferred on the company's accounts.